This page is meant for creating a role that may be later assigned to an added user. In order to start the set-up process, go to "Create role" subsection within the "Administration" section.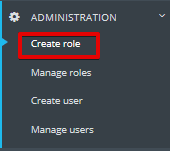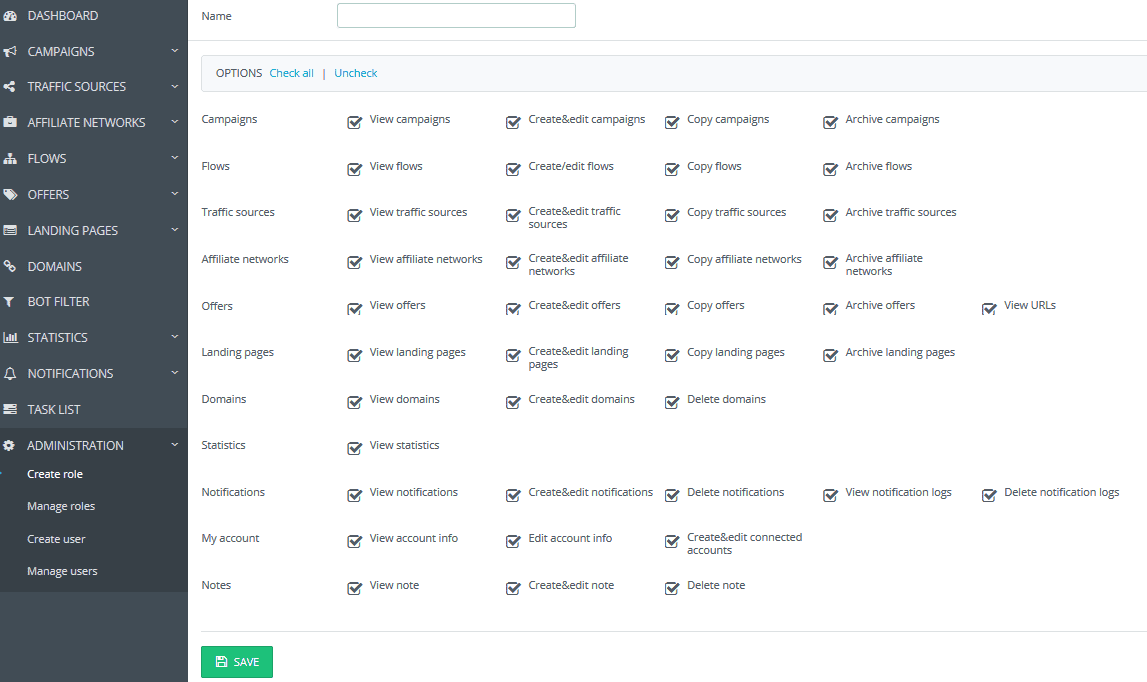 "Name" is a required field.
Options "Check All" / "Uncheck" allow you to check or uncheck all the checkboxes at once.
Available features:
1) "Campaigns"
– View campaigns (the ability to preview the list of campaigns)
– Create & edit campaigns
– Copy campaigns
– Archive campaigns
2) "Flows"
– View flows (the ability to preview the list of flows)
– Create & edit flows
– Copy flows
– Archive flows
3) "Traffic sources"
– View traffic sources (the ability to preview the list of traffic sources)
– Create & edit traffic sources
– Copy traffic sources
– Archive traffic sources
4) "Affiliate networks"
– View affiliate networks (the ability to preview the list of affiliate networks)
– Create & edit affiliate networks
– Copy affiliate networks
– Archive affiliate networks
5) "Offers"
– View offers (the ability to preview the list of offers)
– Create & edit offers
– Copy offers
– Archive offers
– View URLs
6) "Landing pages"
– View landing pages (the ability to preview the list of landing pages)
– Create & edit landing pages
– Copy landing pages
– Archive landing pages
7) "Domains"
– View domains (the ability to preview the list of domains)
– Create & edit domains
– Archive domains
8) "Statistics"
– View statistics (the ability to preview stats within the "Statistics" section; otherwise, the added user with this role won't have the "Statistics" section)
9) "Notifications"
– View notifications
– Create & edit notifications
– Delete notifications
– View notification logs
– Delete notification logs
10) "My account"
– View account info (in the user menu)
– Edit account info
– Create & edit connected accounts (for integrated affiliate networks)
11) "Notes"
– View note
– Create & edit note
– Delete note