Online gambling is one of the fastest and most lucrative industries on the internet today. Even with Google having moved away from accepting gaming advertisers within their paid search results years ago and the United States not fully embracing the concept, it still continues to grow in market share and earnings year after year. Back when Google was accepting such advertisers, you could see competitive clicks in the $50 CPC range in the early 2000s.
Now with more focus on fantasy sports betting sites like FanDuel and DraftKings, the concept of gaming and betting online is becoming more legitimate every day. At the same time, the more people see these commercials on television, the more likely they are to go online and see the different options they have.
With all of this being said, there is a whole world of opportunity out there for site owners and affiliate marketers to cash in with online gambling, casinos and sports betting. In this article we are going to show you some of the most important data points to track, while also showing you how to use landing pages to increase conversions and earnings across the board.
How Big is the Online Gambling Industry

The world of online gambling is growing at a massive rate. Even with the United States still not fully accepting online gambling, it seems like it's just a matter of time. This can clearly be seen with the massive attention being given to online sports betting over the past year.
However, when you look at online gaming revenue throughout the world, that is when things really get crazy. In this chart from Statista.com, we can see year over year earnings that have no limitations in site.
The reason why it's important to look at these figures, is that you never want to invest your time, resources and efforts into an industry that doesn't have enough potential to pay out over time. Online gaming is definitely a lucrative industry and big enough to share the earnings around.
With $41.4 billion dollars being poured into the industry, you can bet online gaming and betting sites are shelling out a lot of money to bring in new player in the process. This is where your opportunity comes into play.
Top Online Gambling Affiliate Programs
Of course you don't need to have an online casino or betting site of your own to make money, you simply need to become an affiliate of any top online casinos in the game today. Whether you are looking to promote casino, slots, poker or fantasy sports, more sites have an affiliate program that you can earn money on by referring new customers to their sites.
When it comes time to promote an offer, you will need to decide which site you want to promote and how you want to get paid for your referrals. The two common payout structures for online gaming are:
CPA

– Earn a set commission for every referred customer that makes a deposit.

REV-SHARE

– Earn a percentage of all revenue / losses from referred customers.
The CPA amount is usually in the $100-$200 payout range, simply because a new customer that makes a deposit to a site is worth a good amount of money. Should you go with the rev-share plan, you are looking at a 15-40% range, which various heavily based on the site you decide to promote.
You may also come across other affiliate programs that offer a low commission ($2-$5+ CPA) for "free" user signups. The payout on these users are much lower because they have not actually made a deposit to their account and simply signed up for free gaming.
To determine the best payout structure for your ad campaigns, you will want to split test your results with your existing traffic resources.
How to Promote Gambling Sites with Landing Pages
There are lots of ways to promote gaming sites, but the most effective way has been through the use of landing pages. With a landing page you can split test your results across different platforms, media buying, social networks and more. To learn more about landing pages and affiliate marketing, be sure to read our guide on this here.
We've already covered how to use AdsBridge to track your campaigns, so in this section we are simply going to look at some of the best ways to create landing pages to increase your conversions and grab the end user's attention.
Based off our core 8-optimization tips for landing pages, we can look at some of the existing gambling templates we offer to our customers and how you can easily click an edit these pages to effectively promote your affiliate site of choice.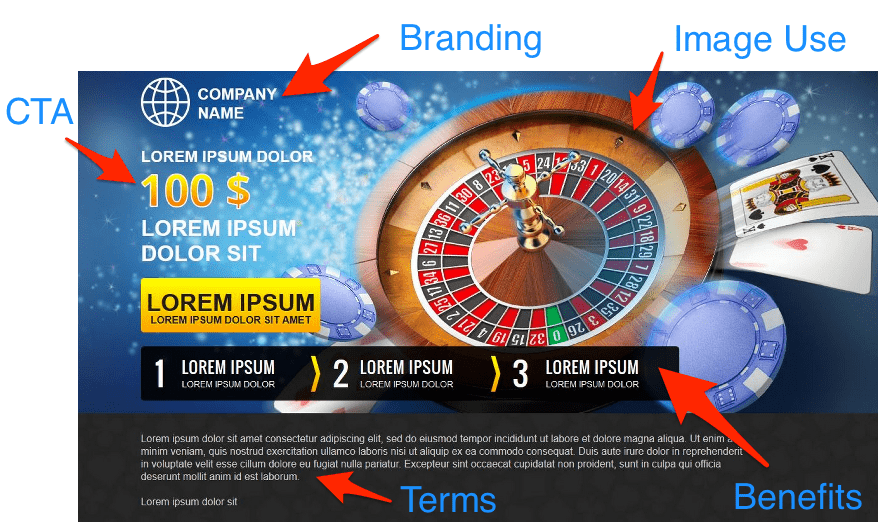 With the gambling landing page template above you can easily implement the following data points to not only target your demographic audience, but also split test minor changes as well.
CTA – The call to action of your landing page is going to draw the most attention. In this case, it's the $100 free bonus on deposit.
Branding – Having a reputable logo on your landing page for the site you are promoting can do wonders to increase conversions.
Image Use – Since gaming has a wide range of bets and games to choose from, use different images that relate with your target audience.
Benefits – Try to made the benefits of your offer quick and to the point. This three steps process is perfect.
Terms – This area isn't required, but if you would like to breakdown any sign up details or post testimonials, this is a good area and format.
Once you've created your landing page within AdsBridge, you can then make a few different variations (using different images, text and colors), then split test your results as your campaign is going.
Just a minor increase of 1% or 2% percent can swing huge profits into your campaign when you are looking at CPA payouts in the $100+ range. You will also want to setup pixel tracking from within your AdsBridge account to see what landing pages and traffic sources are converting best.
Why Adsbridge is The Best Tracking Solution for Gambling Affiliates
When choosing a tracking platform to manage your affiliate marketing campaigns, you want to choose one that is reliable, easy to use and can track your campaign on all possible levels. That's exactly what we had in mind when we created AdsBridge. We wanted to make it easy for affiliates to start tracking their campaigns like never before, while also not having to waste their time with learning how to use a new platform.
This is especially true for gambling affiliates, as the end value of each qualified lead and paid out commission is so high that having the ability to improve your conversions by just a few percentage points can result in thousands of dollars in additional profit for your ad campaigns.
Just take a look at the screenshot preview below of how you could be tracking your campaigns through AdsBridge.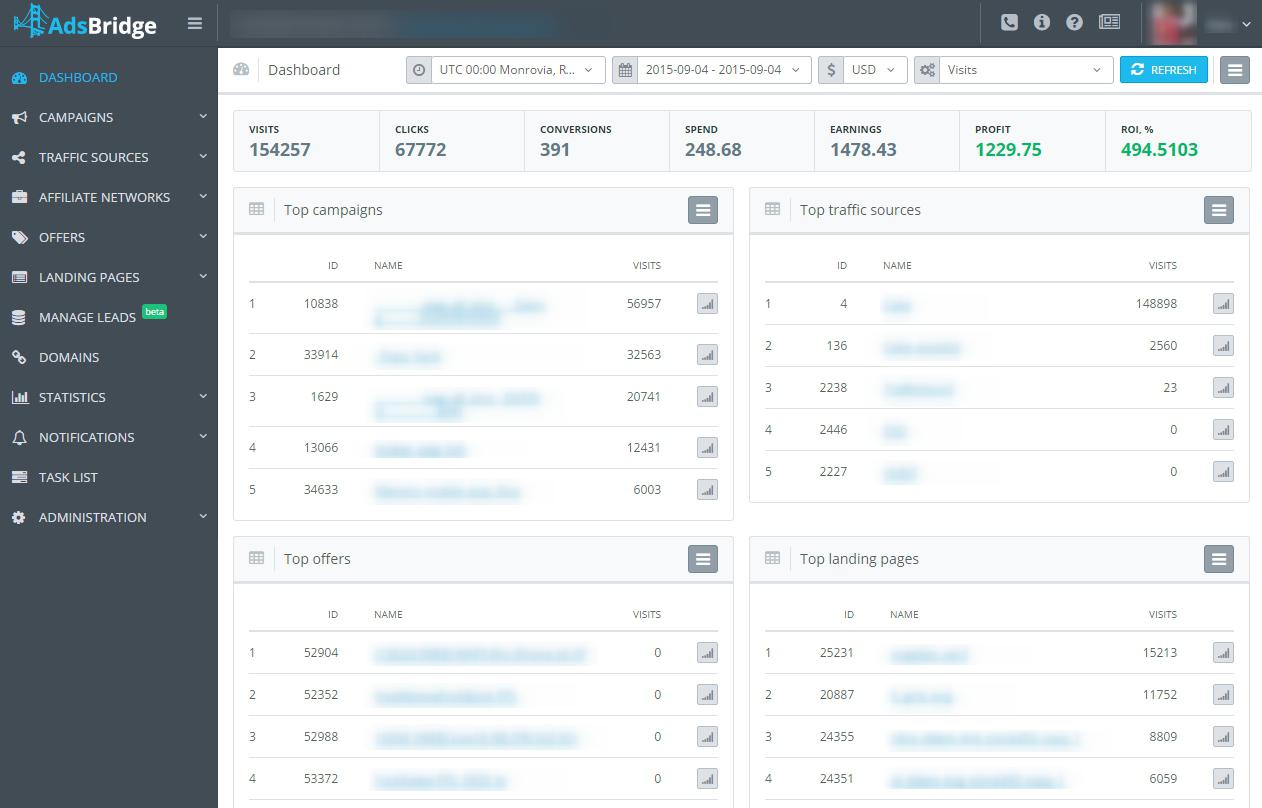 Here are just some of the many reasons why AdsBridge has quickly become one of the most reliable and trusted tracking platforms for gambling affiliate marketers in the industry today.
Competitive Pricing
The industry is saturated with campaign tracking software, but the majority of them are either way too complex and/or way too expensive. When creating AdsBridge, we wanted to make it so affiliates of all sizes could put our platform to the test. We understand that not all affiliate marketers have a huge advertising budget to work with. For this reason, we made AdsBridge available to everyone, while also implementing a 'grow with your business' feature that allow you to scale in size along with your budget.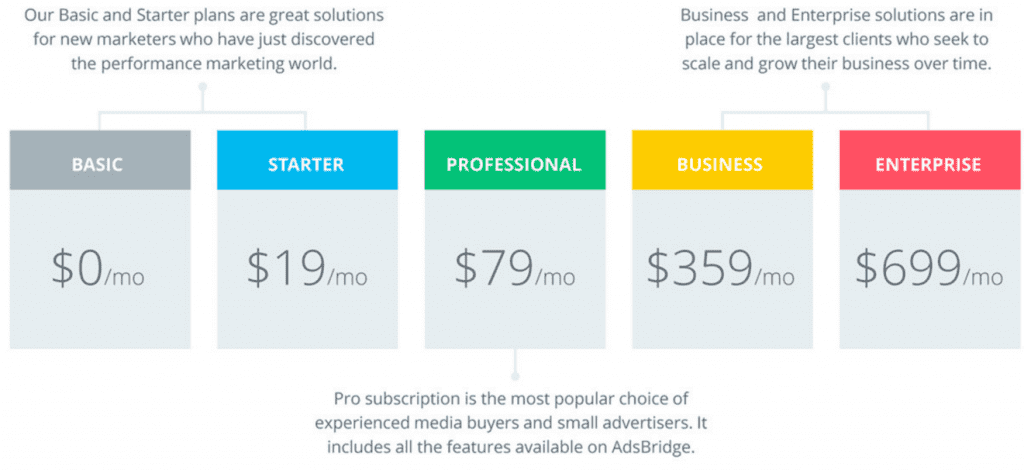 Don't let the limitations of not having a huge marketing budget get in the way of your success. Create an account with AdsBridge and pay nothing on your first 100,000 clicks.
We Only Count Visits Not Clicks or Conversions
Not only does AdsBridge's pricing structure and platform allow anyone to start tracking their campaign instantly, it was also built to only count 'real visitors and conversions' — which is something our competition simply can't say.
When thinking about your active ad campaigns and how you could be serving millions of advertising impressions daily, how many of those clicks are potentially fraudulent or tracked incorrectly? While it may not seem like a big deal on a day by day basis, it could actually end up resulting in hundreds, or even thousands of dollars in wasted tracking fees each month.
AdsBridge doesn't count 'clicks' or 'conversions'… we only count real visits.


This not only means more affordable tracking and management costs, but also more accurate campaign reports on your end.

The Many Other Benefits of AdsBridge

While platform pricing and campaign tracking are at the top of all affiliate questions, we simply wouldn't be providing a valuable service to you if we didn't highlight the many other custom features available once you log in to the AdsBridge platform.

For gambling affiliates, it's crucial to have a tracking platform in place that is up and running at all times. Throw in super-fast redirects and an easy to view user interface and you are starting to realize that AdsBridge was truly built around the needs of an affiliate marketer.

AdsBridge users also gain access to:

Landing Page Builder

– Create high-quality landing pages from within AdsBridge, while also having the ability to track their performance within the same platform. If you don't want to use a custom landing page, choose from any of the gambling templates we already have in place.

Split Testing

– Improve campaign traffic and lead conversions by enabling split testing to see what images, ad copy and navigational options on your site perform best.

See Your Stats on the Go

– Download the AdsBridge iOS app to see your campaign stats live from your mobile device.



Once you've setup your campaign, it's time to unleash the power of our advanced campaign tracking, which includes automatic campaign optimization, advanced pixel tracking and targeting, the filtering of all bot traffic and the ability to create and manage multiple reports at any given time.
It's one thing to read about the many features within AdsBridge, it's another to have an account of your own and see it all live in action!
Can You Afford Not to Be Using AdsBridge?
As a gambling affiliate marketer, you already know the value of the traffic and leads you are providing to your advertisers. You also know how much of a difference just a few leads per day could impact your bottom line.
Now it's time to put the odds in your favor by running your gambling campaigns through AdsBridge's powerful tracking platform, that is simply second to none.
Create your account today and start with zero upfront costs, or go with our Professional plan (which is our most popular) and gain access to even more tracking tools and features.
No matter what method you choose, know you are in good hands with AdsBridge and that our platform was built to help you scale your affiliate earnings like never before.