Last time we promised to bring up some more upgrades. We always stick to our word. And here you go, another portion of AdsBridge improvements:
1. OPTIMIZATION OF STATISTICS QUERIES:
Now statistic performs in half the time.  We increased the upload speed and the amount of data uploaded on the screen and in CSV.
Also, we've added Country_ISO2, Counrty_ISO3 columns in statistics.
2. NEW LOGIC OF FILTERING BY COLUMNS:
Instead of selecting specific values for numeric and estimate indicators, it is now possible to specify the condition: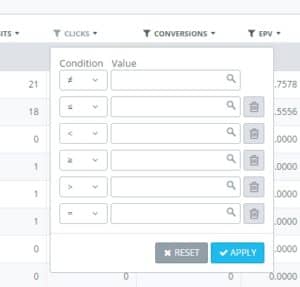 Thus, you can easily determine the profitable platforms, for instance, by indicating Earnings > value.
For the text fields with more than 100 variations, it is now necessary to enter a part or whole value, and press Enter to upload the list of searched values.
3. BACK-END OPTIMIZATION:
We improved the split test mechanism for landing pages and offers, reducing the time of performance.  The security and fault-tolerance of conversions tracking were improved as well.
4. INCREASED SIZE OF TOKENS:
The size of tokens 1-4 for passing data to AdsBridge was increased up to 255 characters.
5. BUG FIXES:
– Sorting and filtering by Date column were fixed
– Sorting by Earnings, Spend, Profit, ROI, EPV, EPC, Payout columns was fixed
– Filtering by Tokens column for values with special characters was also fixed
That's it for now. If you haven't found something you wanted to see on our list of updates, feel free to drop us a line. We always appreciate users' feedback!
Don't forget to subscribe to our Facebook page.
Enjoy your day!