Allow us to introduce Mobidea, a mobile affiliate network specialized in mobile subscriptions, pin submits, sweepstakes, and app install offers.
Mobidea converts mobile traffic, allowing users to either send it to profitable offers or auto-optimize it by using the Smartlink. The company currently has more than 30.000 affiliates all over the world.
One of the key things about Mobidea that affiliates will really like is how easy it is to navigate the platform. Indeed, you can just take a quick glance at the homepage and will soon become able to realize this website really knows something about delivering a remarkably easy-going, clear and clean user experience.
On the homepage, you can easily find what the company is all about: monetizing CPA offers that usually convert on sign-up, and CPI offers that are app installation conversions.
Moreover, the homepage lets you discover that, not only does the company pay affiliates on a daily basis, it also has quite the generous revenue share: 80% flat rate.
On the top right, you can see a category named "Academy". There, users from all over the globe can read and explore a range of articles that are great ways for you to become acquainted with some of the most important affiliate marketing terms, features, tools, and strategies.
There are three more things that catch your grasp on Mobidea's homepage.
First, the platform gives you the chance to check the Offers Directory without forcing you to sign up. This is a great way to gain our trust since we are not being coaxed into becoming part of the Mobidea crew just to catch a glimpse of their many tested offers.
Second, the fact that the homepage includes some commentary and feedback from affiliates themselves.
This is super important because it makes you understand that, not only is this company one of the most experienced in the market, it is also well-loved by affiliates.
Third, the reference to Mobidea's experienced team of online analysts. This is a multicultural assortment of highly dedicated professionals who work tirelessly to provide the best possible advice.
In addition, the support team is available every day of the week (including weekends).
It seems obvious that this is a tremendous advantage of working with this platform.
Main Dashboard
On the dashboard, you'll visualize a very simple design that makes you understand all you need to with a quick glance. The "Monthly Summary" allows you to check the number of all-time signups and revenue.
On the top right you can read the company's news and scheduled business events.
On the bottom right, you have a live chat support. There, you can ask questions and get answers quickly, especially when compared to other networks that present a slower support service.
On your left, you can choose to click on one of the five different fields:
1.  Reports: here you can see your statistics. You can easily check graphs and categorize your statistics. That way, you can see stats of "Last week", "Yesterday", "Last month", etc. This system is helpful since it enables you to narrow down your chances and check which are the best opportunities for success.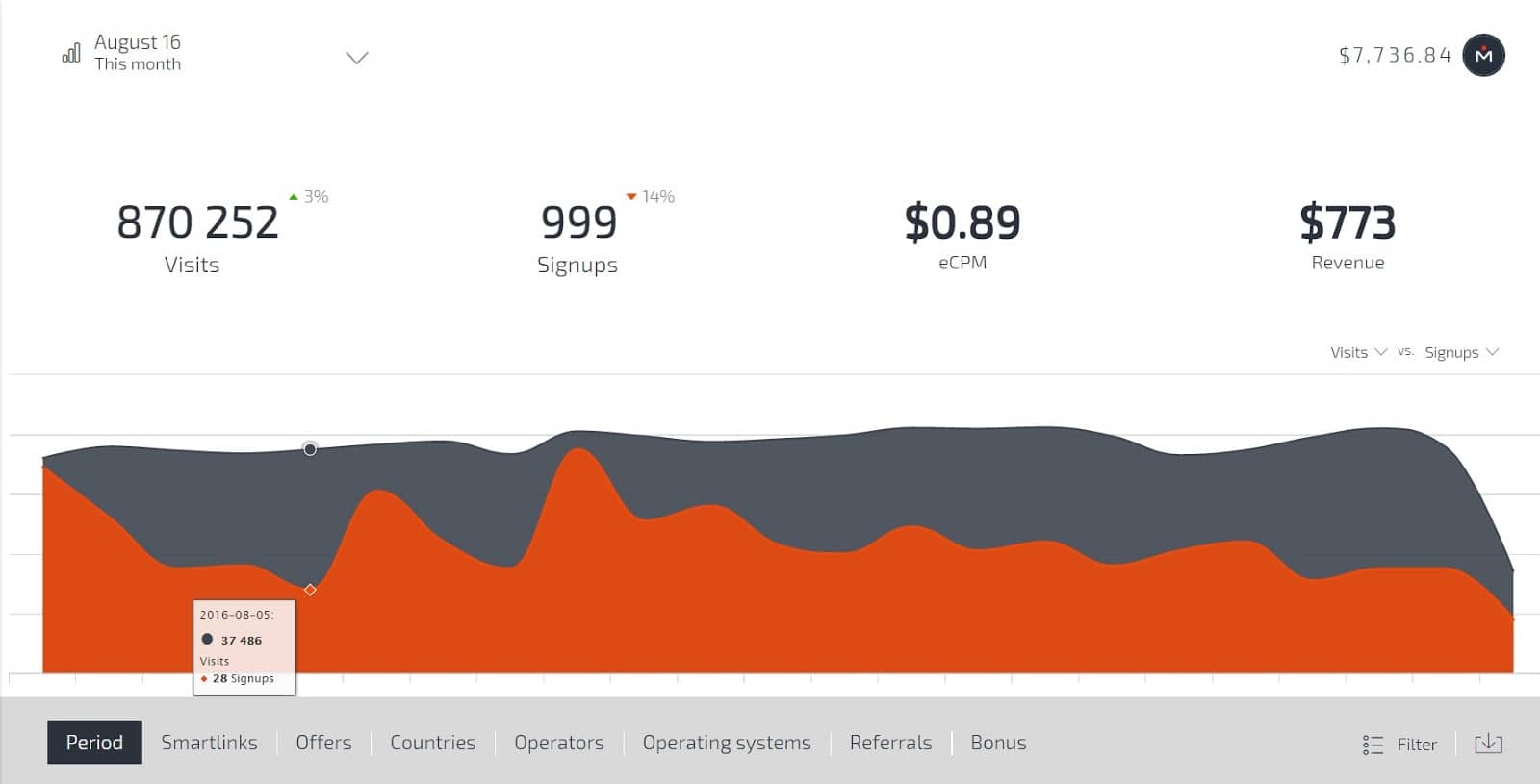 2. Smart Tools: this is the section where you'll get to experience the Smartlink, a powerful, original, house-made algorithm that basically allows Mobidea to segment traffic, providing the best offers for a specific segment.
It analyzes the user's segment per country, operating system, and operator. Then, it automatically picks up the most profitable billing solution available in Mobidea's inventory and redirects mobile users to it, making sure affiliates can maximize their revenue.
This option is available for the following vertical types: Adult and Mainstream. The Smartlink® is something special since it will take care of all the processes that are part of offers optimization.
As of today, you can be sure the Smartlink is generating up to 24,37$ eCPM.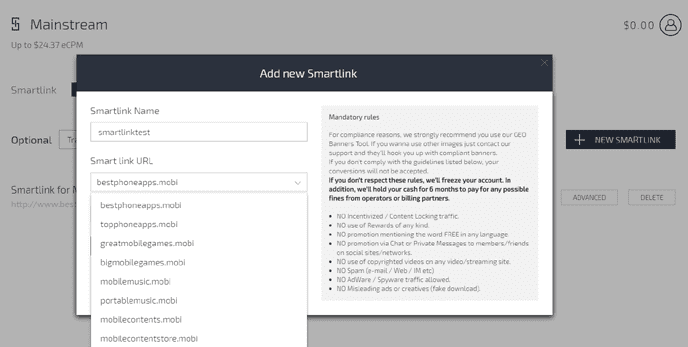 3. Offers: here you can explore more than 1100 offers from all over the world. In particular, you can apply for offers in two of the most well-known verticals: Mainstream and Adult.
Right now, Adult is producing great eCPMs on Mobidea. The offer list can be filtered based on criteria such as Country or Operating System.
You can also sort the list by top eCPM or top payout.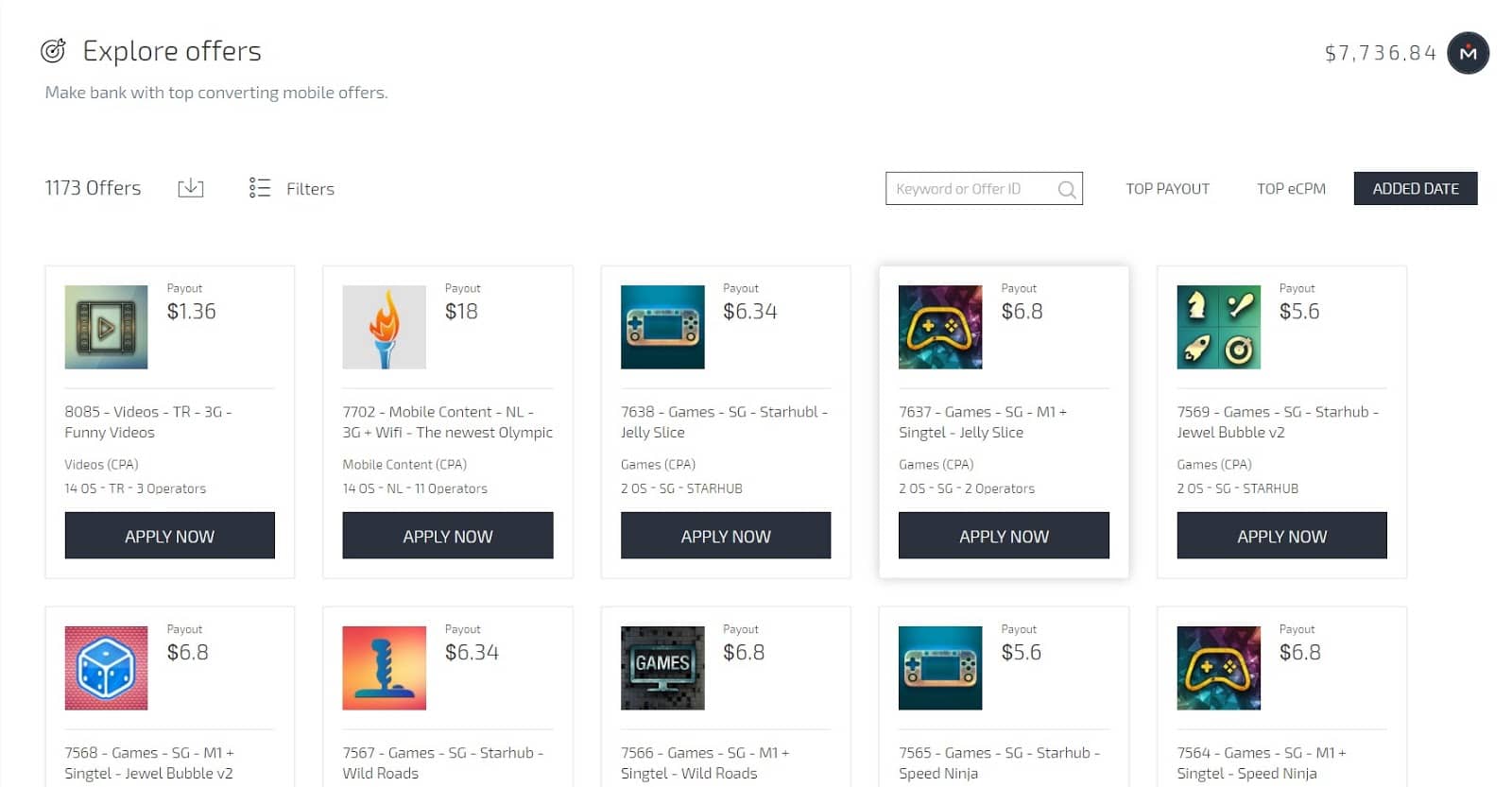 4. Cashier: Here you can withdraw the money you earn. The minimum amount you can cash out? 100€.

5. Account: These are the settings where you can change your password, your security question, or the language of the platform (you can explore it in English, Spanish, and Portuguese).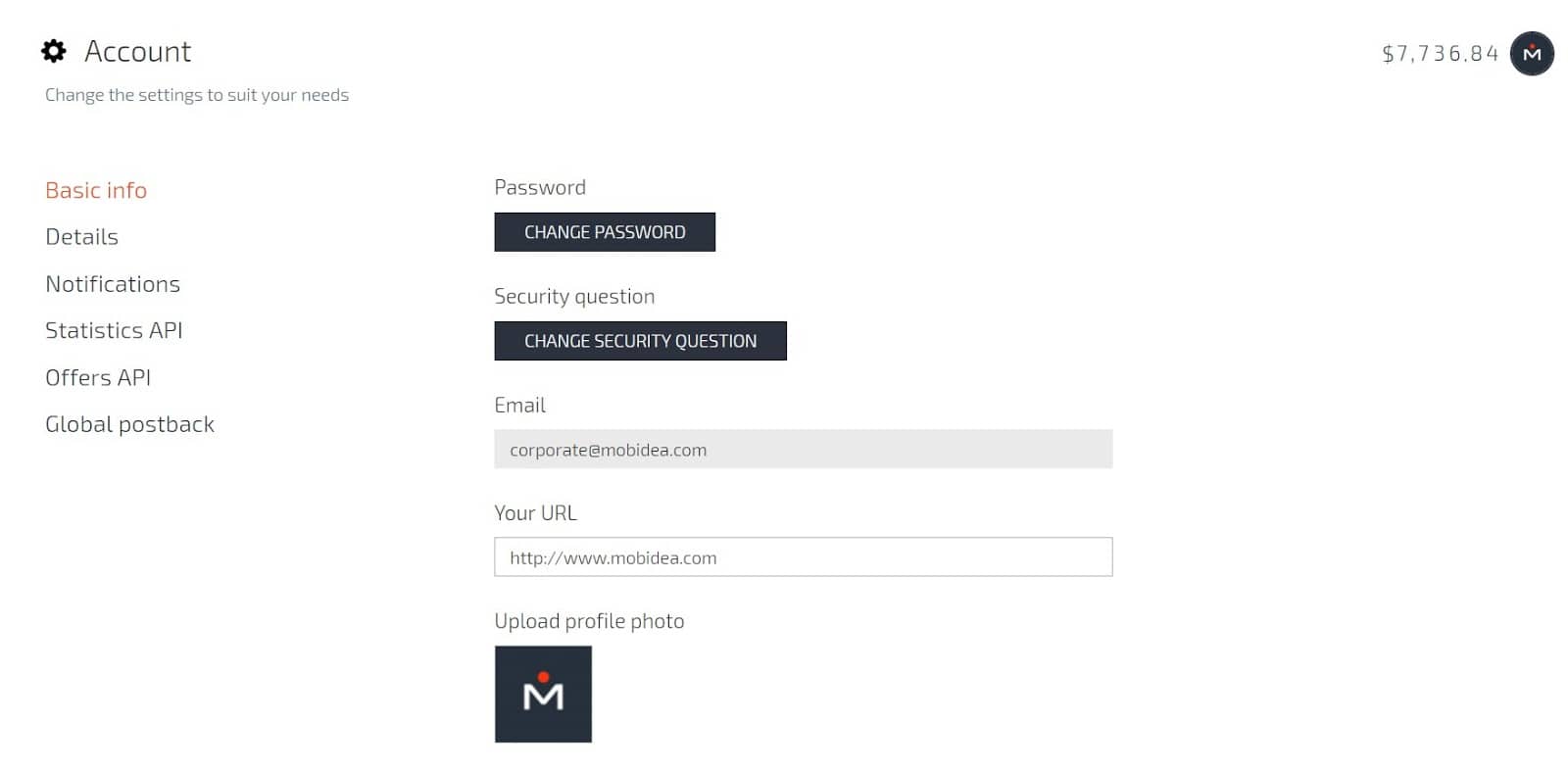 Payment Methods
On Mobidea, affiliates can get paid using an array of different payment methods. Apart from Wire Transfer, affiliates can get paid via PayPal, Payoneer, Payza, ePayments, and Paxum.
Unlike other networks, Mobidea makes sure to pay its affiliates speedily. In fact, VIP affiliates have priority cashout (they get paid every day) and other affiliates get paid in a maximum of 7 days.
The Way to Go
Overall, Mobidea is definitely a great affiliate marketing program. The programmatic skills of its IT team contribute to a platform that works seamlessly; a place where you can check stats, apply to offers, experience the comfort of letting the Smartlink® choose the most profitable offer for you, and rest assured knowing you can get paid every day, being able to get in touch with a support team that is also ready to help every day of the week.
Btw, Mobidea is integrated with AdsBridge. Learn more here.
If you're currently looking to explore a new affiliate marketing platform that delivers in every possible department and want reliability, great offer quality, and amazing support, then it would be a mistake not to give Mobidea a try.