We are glad to introduce you to our new partner Addiliate, a Global Performance Marketing Network where you can find campaigns that can generate conversions all over the world. This new partnership will bring you a great option to convert your traffic into profit.
Addiliate is developed in-house by Clicktron Media, a performance based media agency focused on delivering quality leads and sales for online advertisers. They work with Desktop, Mobile and Email traffic, 100% performance based.
The exclusive promotion for AdsBridge users: Sign up now to Addiliate and they will double your first 500$!
Benefits for Publishers:
For Publishers, Addiliate provides access to a huge amount of performance-based campaigns from all over the world. The campaigns have an easy setup, and publishers can get the tracking link themselves within 10 seconds. In case of questions, publishers have their own dedicated account manager available by phone, email and chat:
Lots of offers: Over 750 campaigns available
Worldwide: Campaigns in +200 countries
Fast payment: through Payoneer, PayPal or wire
Easy setup: Activate campaigns within 10 seconds
Account Manager: Advice on the best campaigns for you
Founded in 2010: Worked with thousands, paid out millions, made people happy
Benefits for Advertisers:
For Advertisers, Addiliate provides access to a huge network of thousands performance-based publishers all over the world that are able to generate sales for your campaign:
Sales: Generate additional revenue worldwide
Control: Desktop, Mobile or Email
Performance: 100% pay-for-performance
Targeting: Focus on your customers
Planning: When and where you want
Tracking: 24/7 real-live tracking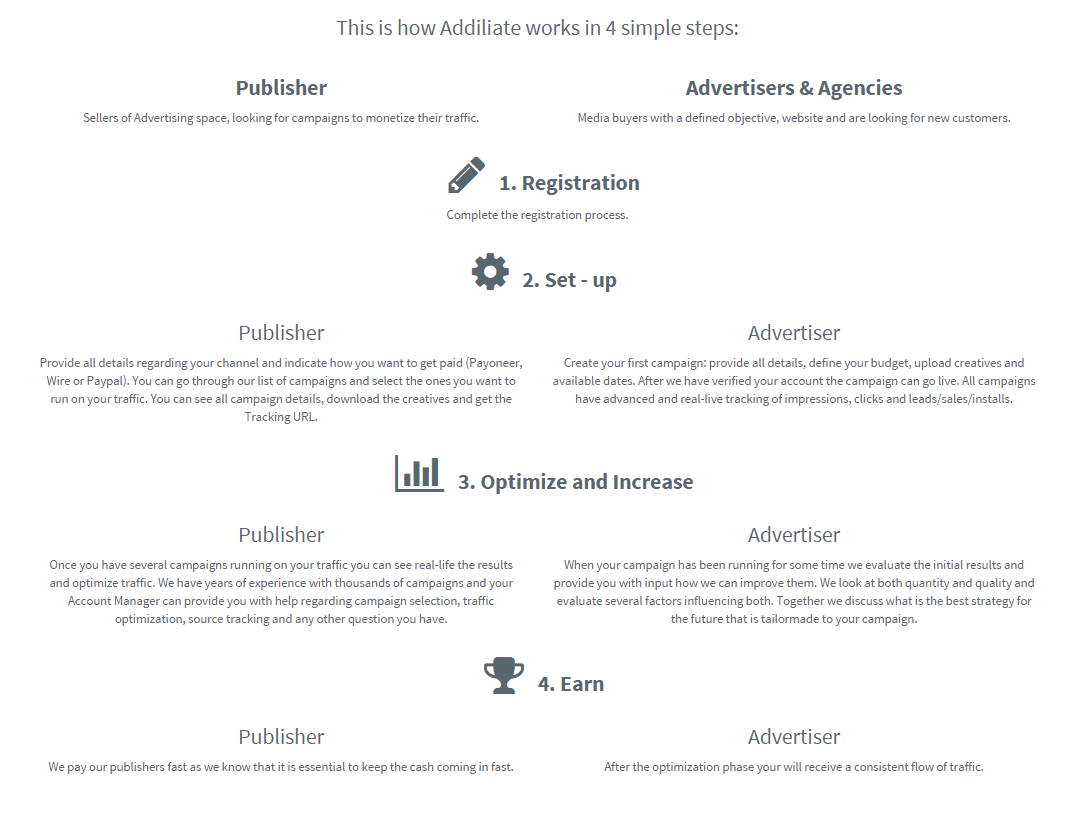 Addiliate and AdsBridge share the passion for providing affiliates with cutting edge technology in order to maximize their performance. This new partnership will bring users from both companies a powerful combination to skyrocket their revenues. Want to get started?