AdsBridge announces partnership that will bring commercial benefits for clients of both services. The decision to become partners has been motivated by the obvious need of our clients to be a step forward competitors to gain success in online advertising. You deserve the best marketing solutions, and you get them. Therefore we are happy to introduce you to TrafficHunt.
TrafficHunt team is the world's leading professionals in online advertising who constantly expands their toolkit for successful advertising and traffic monetization. It serves over 1 billion ad impressions per day worldwide, in both desktop and mobile formats. It is one of the world's leading ad networks in Dating niche, and we strongly believe such partner will bring you desired payback from selling traffic or promoting niche products and services.
Satisfying every individual
The major difference of TrafficHunt from alternative platforms is its personalized attitude to every client. Each advertiser or publisher gets individual terms for collaboration that fit his specific needs and expectations. Traffic owners are able to monetize their traffic through market-leading advertisers, while latter ones build 100% successful ad campaigns on PREMIUM traffic sources. It gives you the power to maximize profit while optimizing your marketing efforts.
Major benefits:
Global

Operation: monetizing traffic worldwide

Profitability: competitive Rev Share/Flat Fee offers

Quality: high-quality ads and Premium traffic sources to ensure the TOP level

user experience

Scalability: enlarging resources keeping up to customer needs

Strength: monetizing 70+% of traffic through our B2C products

Reliability: 100% safe ads, real-time statistics, 24/7 support

Flexible payment options: PayPal, Payoneer, Paxum, Wire Transfer
Advertising market is highly dynamic environment for developing business. That is why TrafficHunt constantly evolves, generating extremely useful improvements and feature add-ons to keep clients one step forward of the rest.
Key Features: all the trumps in one hand
TrafficHunt offers to monetize traffic by CPM, SmartCPM, CPC, Flat Buys model with exclusive targeting options: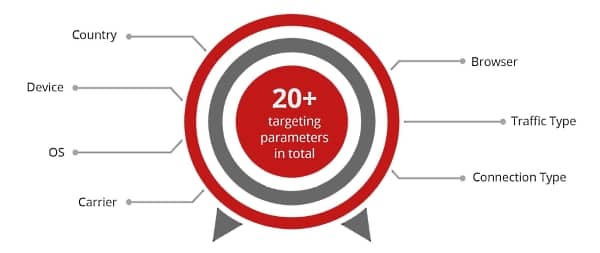 Narrow targeting for campaigns help to achieve maximum ROI, precisely hitting your target audience.
Retargeting
Retargeting brings additional ability to return the audience interested in a specific offer again to the target page. With Retargeting enabled on your campaigns ROI becomes 300% + higher. Its mechanism is as simple, as effective:

Tracking interested users from the entire traffic flow is performed by a specific invisible pixel set on the target page. Retargeting list can be generated by any kind of user action, from click-through to uncompleted order or signup confirmation.
CPA Goal
It is a synergy of CPM cost and CPA performance: traffic cost is defined by the profit it generates on a certain offer. There is no more uncertainty in traffic behavior: you will buy only the traffic that brings the desired profit. Applying for Goal CPA, you optimize the expenses for campaigns and improve the overall ROI. And like the icing on the cake – it's all done automatically!

If to compare a standard CPM-campaign with a CPA Goal campaign, the latter one requires about 80% less efforts and time for setup and maintenance. All statistical research and correct CPM bid calculation is performed by TrafficHunt algorithms.
Anti-AdBlock
One of the major threads for successful advertising campaign is AdBlock software that prevents about 20% of people from seeing ads. As a result, an advertiser loses about 20% of potential profit on each campaign.
This is not about TrafficHunt advertisers: its Anti-AdBlock technology for popunders keeps ads stably visible online even for AdBlock users. It increases profit by 20% absolutely for free! Taking into account that the number of AdBlock users will grow up to 50% by 2017, such technology is a must-have for every advertiser: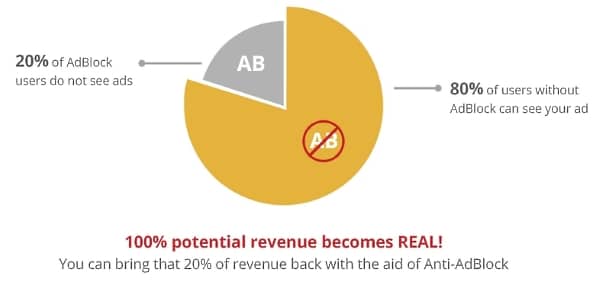 Support
Each TrafficHunt advertiser and publisher is assigned to a personal manager who takes care about campaigns and timely payments. Fast problem solving, consultancy and optimization services, informing about the latest updates and benefits – TrafficHunt it makes you feel like you have a few more hands and eyes for effective work.
All these features in total bring you closer to the potential profit maximum that you've ever been, and help to optimize efforts required for maintaining stable success. TrafficHunt is the platform, where advertisers and publishers perfectly match each other.
To get more about TrafficHunt, check its official blog. Soon you'll get an email with exclusive bonuses from TrafficHunt, don't miss it!