Every day you are in touch with our support managers who answer your questions and help you with your settings. Now you will have an opportunity to find out about them a bit more. We present our first interview with an account manager Ekaterina👇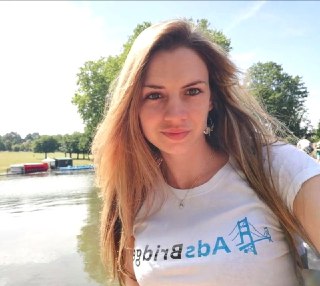 What was your first job and how did you get to AdsBridge?
Well, if we take the very first one, then my friend and I made unusual notebooks in our childhood, and then sold them to our classmates. Of course, we didn't earn much, but it was enough for ice cream😄 Those little entrepreneurs we were💰💰💰
I got into AdsBridge by chance. When I was looking through the vacancies, there were several projects that got me interested. Intuitively I decided to narrow my choice to AdsBridge and, apparently, was not mistaken. It was love at first sight, or rather at first click💙
How difficult was it to understand affiliate marketing details and the tracker work in particular?
At the very beginning, of course, it was rather challenging. 
Moreover, the previous work wasn't connected with it at all. However, I was eager to learn as many details as I could and tried to understand the very principle of all the processes. I guess that helped me to sort things out over time. I believe when you learn something new, the main thing is to give yourself time and try to understand everything from the inside. Then every new piece of information will immediately fall into place.
What is most important when working with clients?
I'd like to mention several important factors here.
First of all, it is crucial to understand the essence of the query itself and give a client the most precise answer.
Our customers are people from all around the world, with their cultural differences, as well as with different experience in affiliate marketing: some of them are newbies, the others already have considerable experience. Despite these factors, we try to be on the same wavelength with all of them and respond to their requests as accurately as possible.
The second important thing is the human factor. Each user is happy when he is asked how he is doing, whether he managed to start a campaign and make necessary settings. 
One of the main principles of AdsBridge is high quality support. So we are doing our best to meet this criterion as much as possible.
What do you enjoy the most at work?
Definitely communication, new tasks, interesting ideas and their implementation in our project.
I like seeing the results of my work and receive feedback from our users that they have successfully launched their advertising campaigns. When users grow with us, it feels the best🥰
I also really enjoy live communication, trips and conferences. 
Now, unfortunately, they are on a pause. But I think that everything will return to its flow with time. As they say, there's always sunshine after the rain ☀️
But the pause concerns the conferences only, in other aspects AdsBridge is in full swing throughout the whole quarantine.
What do you do to recover when there is no strength for anything?
I am a total sun seeker and I just adore long walks. It definitely recharges my batteries!
The best anti stress for me is riding my bicycle along the seaside… Nature helps me recover the best.
I love travelling and learning about new places. Whenever possible, I change the location.
It perfectly gives me an energy boost and inspires me for new ideas. I can say that it's really important when you work with customers 🙃