The industry of web tools for affiliate marketers has a new entry: it is the first widget-based spy tool that allows you to discover and choose the most profitable placements for your ads in native, pop and adult traffic sources.
First, a little introduction to the world of Spy Tools. What's a Spy Tool?
A spy tool is a web tool that allows you to discover the best landing pages, banners and offers that other affiliate marketers are running on a certain traffic source, allowing you to copy them saving time and money.
You don't need to reinvent the wheel: just copy what already works. A spy tool can analyze this data and discover what's working for other affiliate marketers right now. Spy tools can give you extreme clarity on your marketing efforts… BuddyAd helps you in all of this, but what made us curious were some game-changer features.
Best Features of BuddyAd
Let's first talk about the most disruptive one: BuddyAd can identify the specific placements (widget IDs) with more activity in the traffic source where the offer works better. You will save hundreds of dollars in A/B testing that makes you spend money on bad placements that are not converting.
After the login, the first thing we see are ads. Ads are represented by cards which give you more information about how long the ad is running (days), on how many websites, on what devices, countries, and networks.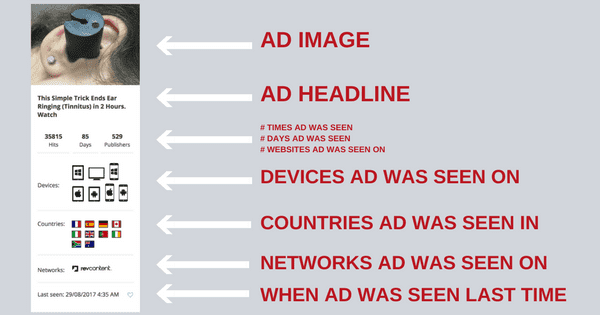 BuddyAd seems to have a comprehensive list of traffic sources and geos you can filter devices on, but the things that come very handy are the options to filter by vertical as well as filter arbitrage from affiliate campaigns.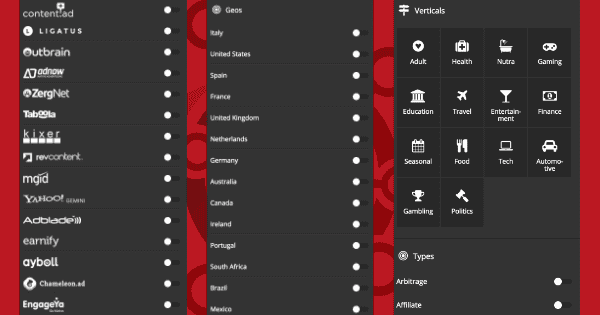 There are multiple ways to search banners. The most common that we used is entering a keyword and searching in the ad info but you can also enter a website URL to search ads running on that website, or you can search a particular word or URL to search in the redirect chains and landings. You can order results by newest, running longest and received most traffic.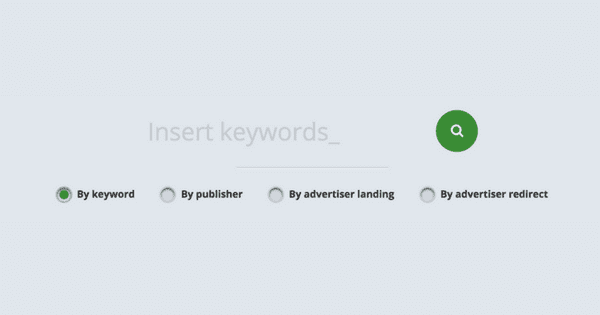 Clicking on an ad, you automatically see the landings where that ad leads to. You can also get an understanding of where the landing was used, on which countries and devices. You can go to the landing in real time, download it or get more details, like the whole redirect chain.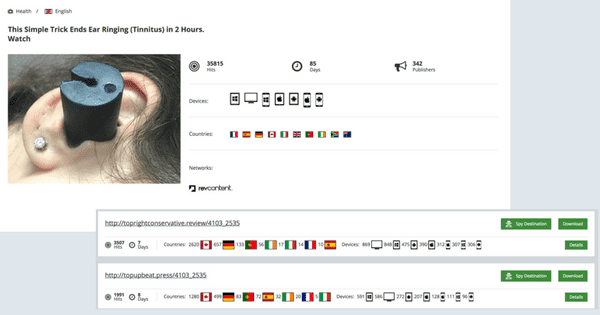 Where BuddyAd really shines is the placement tab, though. Here, you can see the exact widget ID where the ad is running.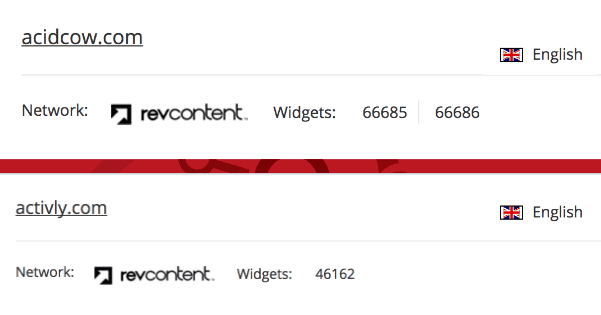 If you already run campaigns on Native (and on Pop, too), you know that a problem with native is that publishers constantly change widget IDs and content recommendation networks. BuddyAd keeps track for you of that and only shows widget IDs that are currently active.
The second most useful feature really is the "website" tab.
There you can see all the websites that BuddyAd has in its database and for each one you can check which content recommendation networks it uses, the widget IDs and useful information like the vertical, monthly visitors, alexa rank, domain authority, bounce rate, backlinks, social shares, traffic by geo, and more.
The traffic by geo section is particularly useful to see which countries drive traffic to a particular website.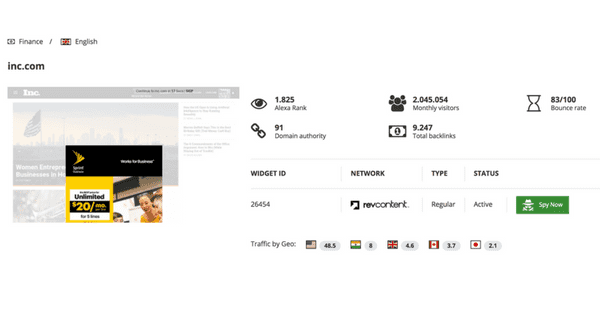 BuddyAd has a good list of websites already in their database, but if they don't have the one you are looking for, you can simply add it with a couple of clicks. They have a feature for this which will scan the website for you.
The "Real Time Scan" feature allows you to scan any publishers in real time to see which ads are running on it.
Finally, you can also search widget IDs directly from their database.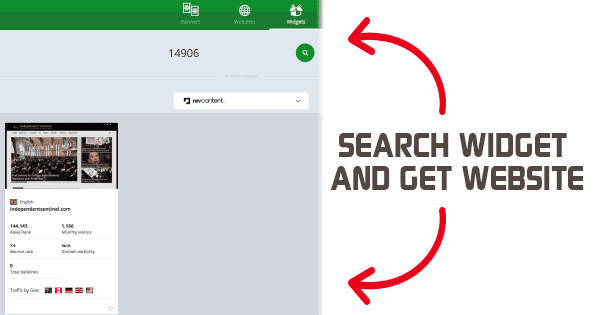 Why Every Affiliate Marketers Should Try BuddyAd
The new features make BuddyAd unique on the market and even if the product is new, it seems really solid.
The option to select websites directly is the main reason of our test, and something we didn't find in any other spy tool. This, combined with the ability to see widget IDs, are the real value of BuddyAd.
And it's not about only Native. Take into account that on top of it, BuddyAd has also a widget finder for Pop ad networks and Adult ad networks with website lists and widget IDs, all included, at no additional charge for you. Their team told us there are new traffic sources which will be added shortly, at no additional charge for existing users.
If you want to try, here is your unique link for AdsBridge Members. There's currently a 7.99€ / 7 days trial: http://buddyad.link/adsbridge
As price will surely increase in the next 3 months, we worked with the BuddyAd team to lock the price for all the users registering with the link above.
Thanks,
AdsBridge