The AdsBridge team has built strong relationships with users. We constantly receive many questions as well as suggestions, and today we want to share one of the case studies sent by our user who gives his recommendations on how to work with Facebook.
We are sure that this information will be useful for all AdsBridge affiliates. The feedback answers the following questions:
Can you use the tracker to run traffic from Facebook?
How to see more information about your traffic, and not only the data Facebook provides?
Can you run CPA offers on Facebook? Which verticals work best on Facebook?
You're welcome to check out his suggestions below:
General recommendation
Any ad that you promote on Facebook must fit the rules of this social network and pass through moderation (for example, Facebook forbids exit pop-ups, automatically loaded audio, flash files, etc. to be added to the pages where you redirect users). You can find the rules on their site. Note that the information is regularly updated, so you should try to check it once in awhile.
Select appropriate offers. If you direct traffic on something like "Earn cash now", Facebook will block it instantly. This also applies to the sites you are redirecting your users to. Make sure that this is not a phishing site, and it doesn't have viruses.
A banner and a target page must be relevant. This means that if you advertise a specific app that takes the user to something else, it won't pass moderation.
The use of trackers
Facebook allows using trackers. The most important is to do it wisely. Previously, I used other tracker but then switched to AdsBridge (it is cheaper for my traffic volume and there is less hassle because it's SaaS).
By the way, one of AdsBridge's advantages (well, as in most other trackers) is that it enables you to direct users to the AppStore and GooglePlay links (add links as offers, and place a campaign URL of a tracker on Facebook). Facebook won't allow these links directly without the use of a tracker.
One more tip on trackers and Facebook: unlike most of the sources, Facebook doesn't have macros and can't substitute any data in the tracker's URL. That's why everything you want to redirect from Facebook to the tracker must be put manually in the URL.
For example, when placing an AdsBridge campaign URL on Facebook, I manually entered the location and gender in tokens. You can also add campaign ID for the statistic purpose, it's up to you.
So, the URL which I used on Facebook was as follows:
http://blablabla.com/c/***************?location=IN&age=35&sex=m
СРА offers and affiliate network links
Usually, affiliate network offers are designed for a specific location. If the user doesn't correspond to this location, then the redirect is made to another offer (redirect within affiliate network), and this causes problems (because in most cases a moderator is redirected to the wrong location).
Here are some solutions:
Do not run traffic directly to the offer, instead, use jump pages or landers to place CPA offer URLs on them. Thus, the moderator will be redirected to your page from Facebook (it is important that this page is relevant to your banners), then he won't track it further, and your users will be able to reach your offer URL.
This works for all types of verticals and offers. In some cases, a landing page may work to your disadvantage and increase the number of left users if it doesn't fit the user's funnel or just designed badly. And, on the contrary, a good landing page can increase users' conversions by 20-30% (because the most precise traffic is targeted to the offer). It's up to you to decide.
Send moderators and bot traffic from Facebook to the clean page while sending users directly to CPA offers. The strategy works but it's risky. If moderator and bots are not filtered out well, the consequences will be bad (i.e. your account can be banned, or the link won't be approved).
By the way, I tested both options on AdsBridge.
For the first one, they provide a landing page builder. I tried to run traffic from my own lander (which is hosted on my server), and also using a landing page hosted on AdsBridge. I didn't notice any difference. So, the funnel looked like: Facebook – LP – CPA offer.
This scheme works, you can safely use it. Though, there were a couple of times when moderation failed. I blamed the tracker but then figured out that Facebook didn't like my targeted page (there were extra scripts loaded, so I removed them, and then everything worked well).
For the second option, I used a traffic distribution. You can set it up here on AdsBridge:

The logic is as follows: first I create Default path with the direct link to the official app's site (the same app as in the CPA offer I want to promote). Then I add Path with some redirect rules and add the CPA offer's link to this app as an offer (through direct link or landing page depending on your choice).
So, these are the ways I tried to redirect moderators and bots, and they actually worked:
By ISP – usually ISP moderators – Facebook Inc., Amazon.com Inc., Amazon Technologies Inc. and other. Their list can be found on the Internet, or you simply can monitor statistics. This option is not very reliable because you can miss some of the ISPs; however, in general, it is applicable.

By Country – the principle is simple. I buy traffic, such as IN. Moderators often check traffic by their location, so they do not intercross. The problem arises with traffic from the US where locations intercross.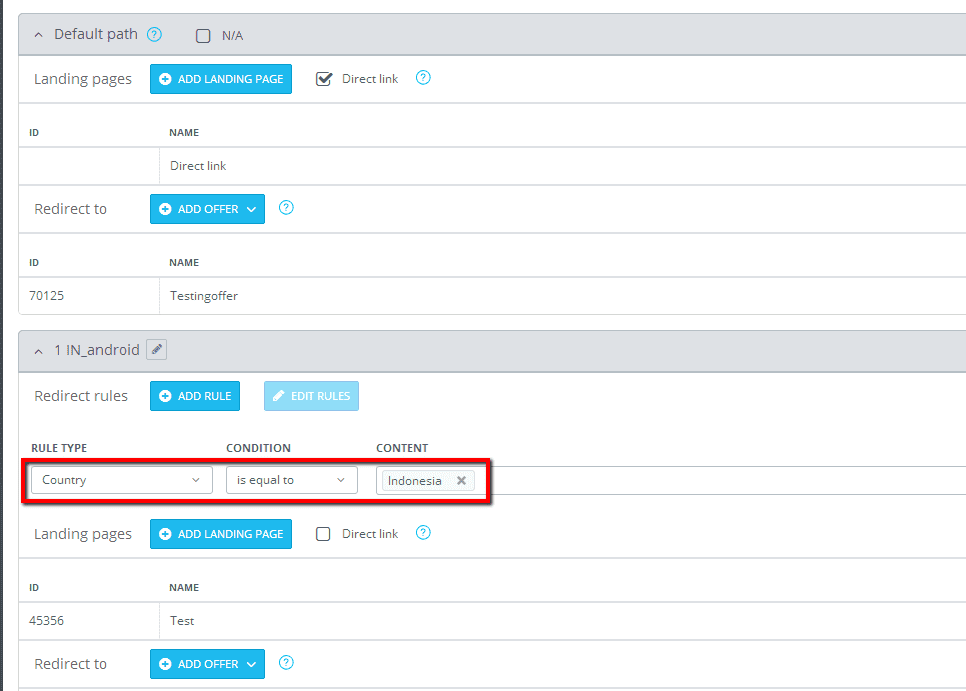 By Country+OS – if I buy Android traffic then I put Android in the distribution rules, and moderators and bots that usually use other options will land on a parked page.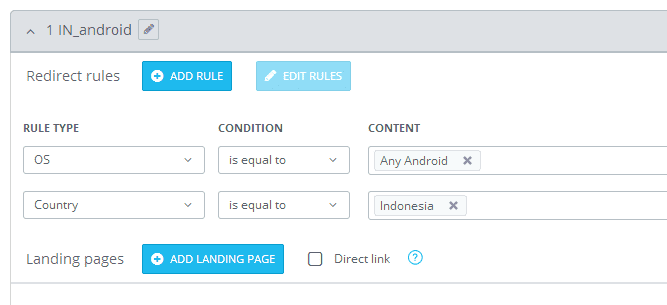 By Country+OS+Traffic type – it is the same rule as the previous one only specified with one more parameter. Moderators often check links from the desktop while I buy mobile traffic.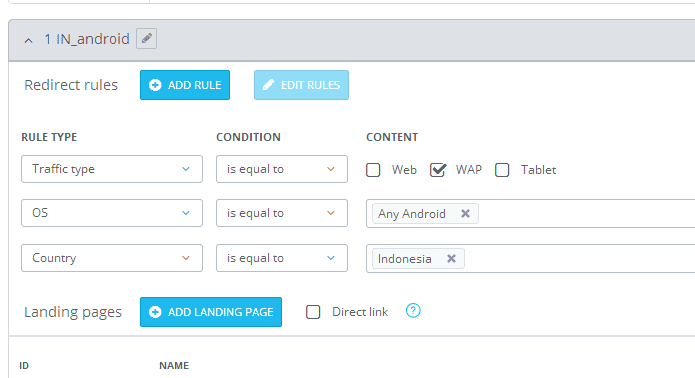 And finally, in order to pass moderation, it is better to use your own domain. I mean that it will be useful to have some domain for Facebook. You can use the name that is consistent with the theme you promote, and you can tie it up to the tracker. It's not necessary but I did so.
We hope that this information shared by our user is useful for you. Write back to us if you have any questions or comments. You also can share your experience with others, and we will be glad to post your recommendation in our blog.
P.S.  A case study shared by AdsBridge user