AdsBridge Team has been working effectively and is eager to tell you awesome news – now you can not only track your marketing campaigns, distribute traffic and optimize the whole funnel but also earn!
Meet a NEW functionality – "Traffic Monetization" from AdsBridge.
Do you want to monetize your traffic with maximum effectiveness, increase your profit and automate traffic distribution process while saving time on offers search, conditions and bundles set up? Then hurry up and start using traffic monetization from AdsBridge.
With new feature "Traffic Monetization" you DON`T NEED TO:
set up traffic distribution rules and paths,

choose conditions,

search for cool offers on the various affiliate networks,

use outside service providers,

test different bundles.
Because AdsBridge provides it for you!
The system distributes automatically all your incoming traffic on the profitable and conversion offers and monetize it as much as possible. What do you need to do? – just one click.
How does it work?
Click the checkbox "Monetize traffic" on the second step of targeting settings when creating/editing campaign. You`ll see "Traffic monetization" rule below. The only thing you need to do is to choose vertical.
All traffic will be automatically monetized and distributed in correspondence with chosen vertical.

If you want to work with your own offers and set up necessary rules, this functionality could be used for monetization of traffic that hasn`t matched the conditions you set up. It is a great opportunity to get more profit without losing another dime.
When activating the checkbox "Monetize traffic" you'll see monetization rule instead of "Default rule".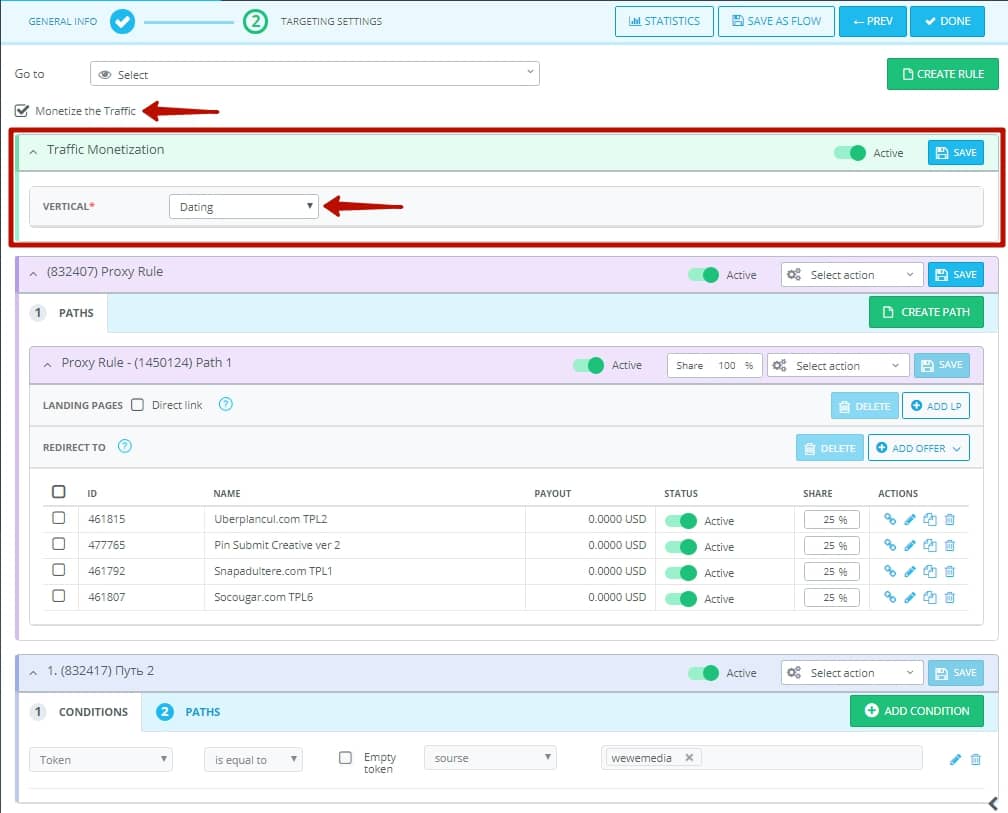 All traffic that doesn`t match any of your rules and conditions will be redirected automatically on this rule to be monetized. Its no need in losing traffic – you can make money on it.
Payout and balance by "Monetize traffic"
Earned sum with the help of "Monetize traffic" are able to be withdrawn to your account in the "Payments" section. Moreover, this money might be used to pay for the subscription plan, pay for domain or even overlimit.  
If you want to withdraw your money, you need to opt for one of the available payment methods: PayPal, WebMoney, Epayments or bank transfer.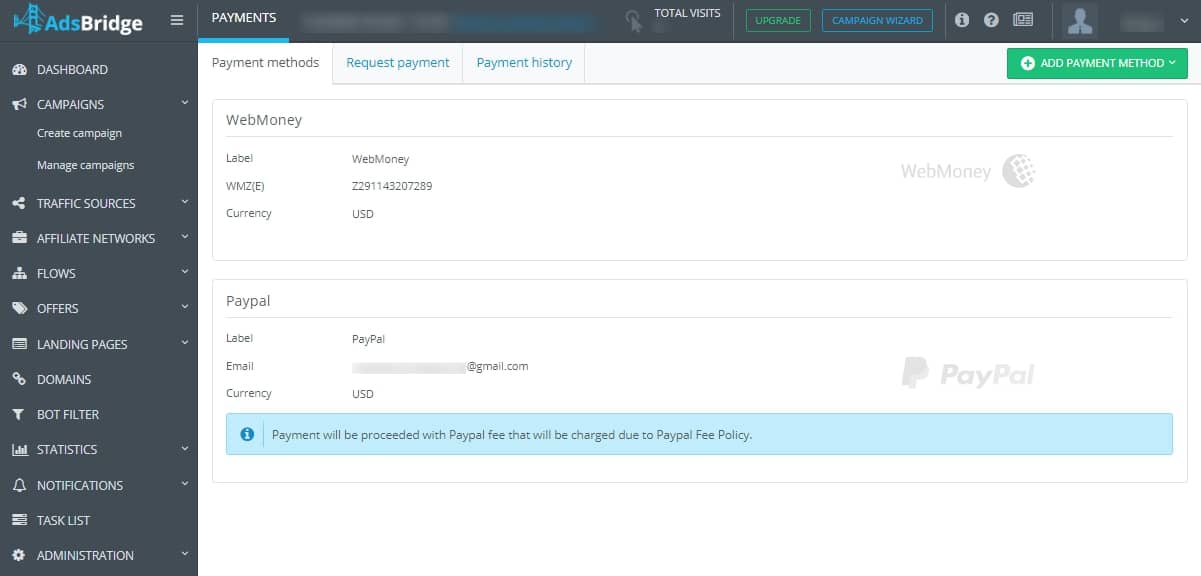 Balance is updated in real time that's why users are able to get true information about the current income from the traffic monetization. At the start of the month "Available amount to withdraw" is updated automatically. This means that all amount of money you've earned during the month is available and ready to be withdrawn.
On the second tab "Payments" you are able to request a withdrawal of earned money. To make a request you will need to enter required amount and opt for payment method created earlier. Your request will be processed soon by the manager.
Note, minimum withdrawal amount is 100$.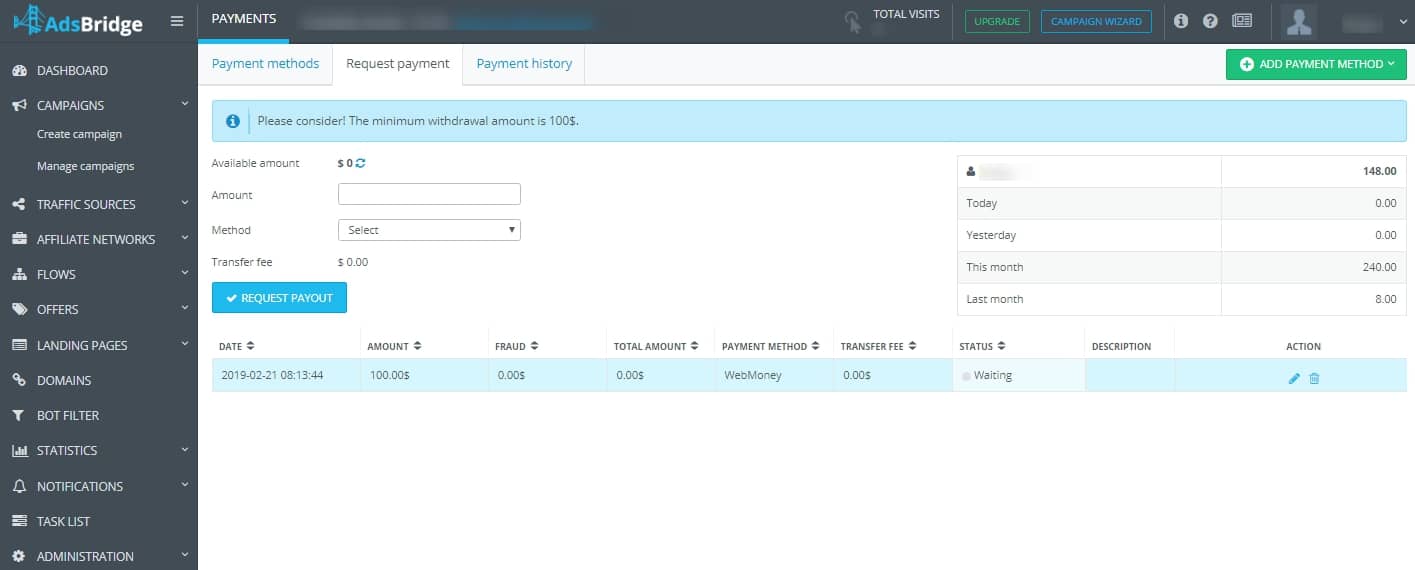 Status "Accepted" means that your request was successfully processed and soon you will receive money. After completed payment transfer your request will be available in the "Payment history" tab.

You are able to check all payments in current tab and download the reports from each one.
Note, there is no any payment for fraud traffic. In case there will be noticed any fraud conversions during the check in of your withdrawal request, the payment amount will be recounted without fraud conversions. You will receive final detailed report afterwards.
AdsBridge saves your time on searching the offers, setting up the paths, conditions, distribution rules and monetizes your traffic with the maximum profit.
Track and earn wisely with AdsBridge!