While Pokemons rule the world, we keep exploring the new paths to success. Today, we prepared another hot user-case. And before it becomes mainstream just like PokemonGo, you have a chance to try and get the most out of it.
Here we'll talk about conversions increase and audience engagement. You'll find out how to heat up people's interest to your offer just by making slight changes in your flow.
Let's start with motivation quote by Charles Ngo, –
"The biggest sustainable competitive advantages you can have is how fast you learn."
Inspired? Go ahead and learn some quick tricks to increase your campaign performance!
Certainly, landers increase conversions and audience interest. But, have you tried to create 2 jump pages within 1 flow?
This case, the first lander of your flow will serve as a presentation and redirect users to several offers at a time. If you pass traffic through filters one more time, the lander will attract only users who are interested in your offer, and convert them into leads. The others will be filtered out.
There are two ways to create a flow with two landers in the AdsBridge system. The first one is simpler. So, let's take a closer look…
Method #1 – create two landing pages in one flow through two campaigns
How to set up:
Create 2 сampaigns (Campaign1 and Campaign2).
-In Campaign1 you need to add a Lander1 and Offer1 with Campaign2 URL.
-In Campaign2 you need to add Lander2 and Offer2 with a link to the target Offer.
How does it work?
In case users go through Campaign1 URL, they will see Lander1. By clicking on the CTA button on Lander1, the user will be redirected to Campaign2 URL with Lander2.
As a result, they will see Lander2 right after Lander1 since the redirect is very fast. After that when users click on the CTA button on the Lander2, they are redirected to Offer2 with a target link.
There is one point to take into account. You will have to use 2 campaigns and some visits will be doubled if the user clicks on the CTA button on Lander1.
Method #2 – add two landing pages in one flow with the help of token.
How to set up:
1. Perform the following actions at the 1st step of campaign creation:
– add token in the Campaign token section and name it for example button and set value 1.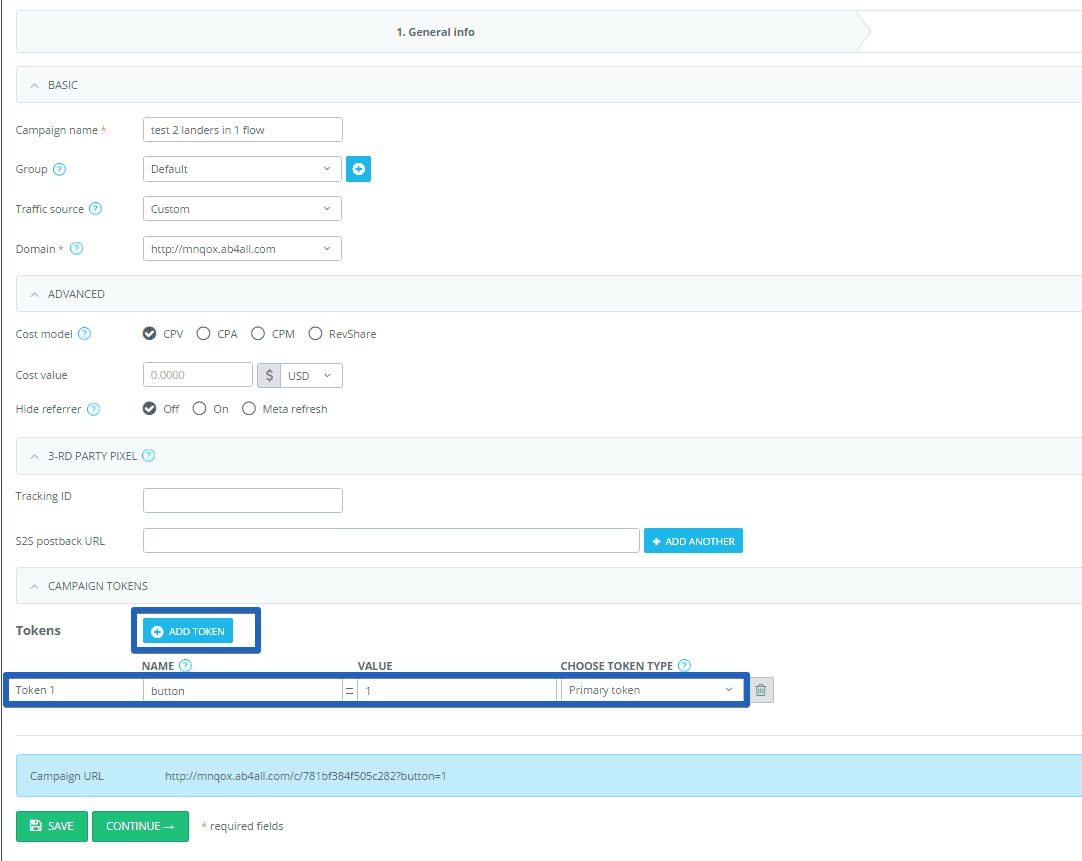 2. Then copy the Campaign URL. So, that your campaign URL will look like this: http://example.test.com/c/test1?button=1.

3. At the 2nd step of campaign creation, use these settings:
– add landing1 with offer1 in the Default path. Offer's 1 URL is the link of the campaign from step 2.

4. Add rule, choose Token in Rule type section, Condition – Equal, Content – button, and set value 1 (it'll be substituted automatically). Then, add your Landing2 with target offer.

Please note! You need to put only this part of campaign URL on traffic source side  (without the token) http://example.test.com/c/test1?
How will your funnel look like?
The user goes through campaign URL without token and gets on the Lander1 that we added into the Default path.
In case the user clicks on the CTA button, he will pass thorugh this campaign URL again, but with the token button=1. Thus, the user is marked with it.
Due to that, the system determines that this user needs to be redirected to the Path 1 with the button=1 rule so that the user gets to Lander2.
If there is a click on the CTA button on Lander2, the user will be redirected to the required offer that is added to the Path 1 with the button=1 rule.
That's it! Choose a more suitable way and go on testing.
For more user-cases and manuals, visit the GUIDES section in our blog.
Do not forget to subscribe to our fan page on Facebook!