AdsBridge has been working efficiently as a marketer's perfect solution for all of their campaign needs, providing them with everything that they need to run online marketing campaigns, even allowing marketers to run and manage multiple campaigns at once.
One of AdsBridge's most useful features is our new Automatic Campaign Optimization, which evaluates your campaigns for you automatically to determine what's working and what is not. Especially when managing and running more than one campaign at a time, like many affiliate marketers do on a regular basis, this tool is an incredible resource that shouldn't be overlooked.
What The Automatic Campaign Optimization Tool Does
AdsBridge's Automatic Campaign Optimization tool does exactly what it sounds like. It's a great new feature that is coming soon but is currently in beta-testing, using algorithms that automatically and accurately evaluates and monitors your campaigns' progress and statistics. It starts doing this as soon as campaigns are setup and live, and also frees you from needing to constantly check in to see which landing pages and offers are performing well.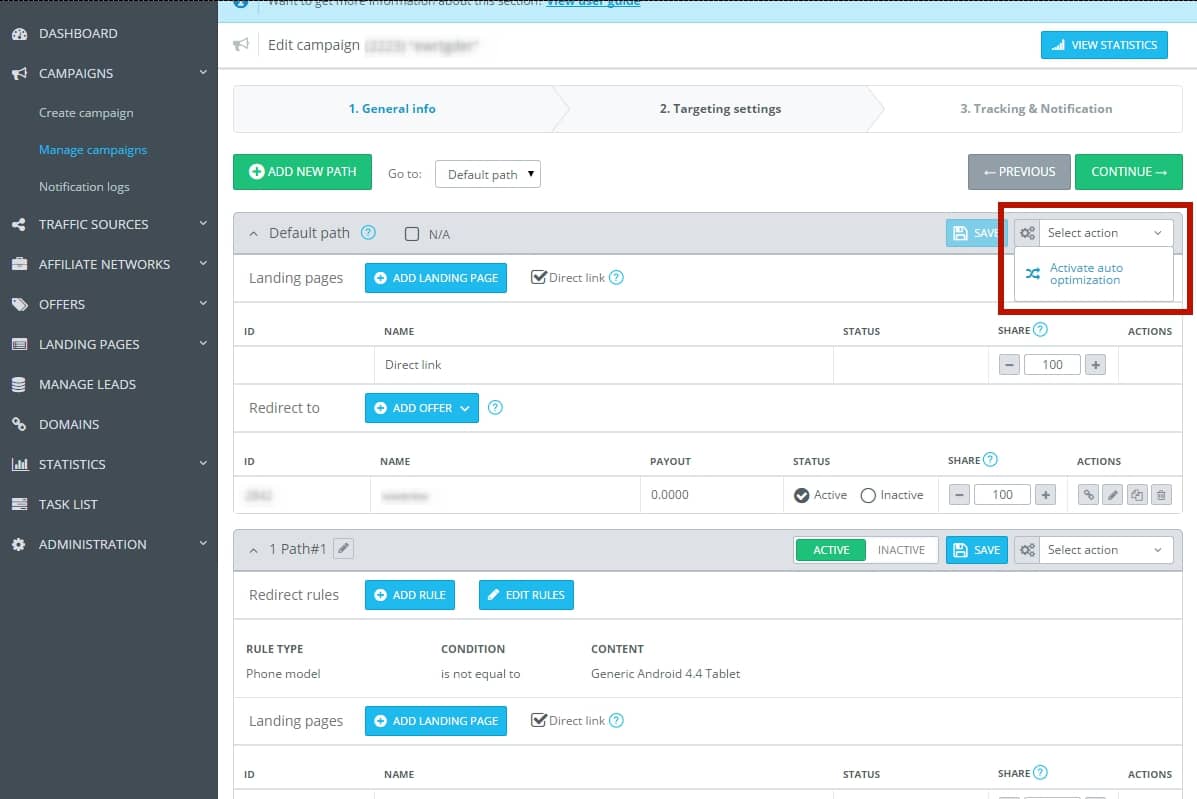 The Automatic Campaign Optimization feature is part of a larger tracking solution AdsBridge released in April of this year. Its algorithms not only analyze statistics, but also provide suggestions and information based on optimal control strategy and probabilistic approach, helping you to determine the best settings for each campaign.
The Automatic Campaign Optimization tool is designed to make it easier than ever to monitor your campaigns. It helps you see what's working and what's not by breaking down the statistics for you.. It also keeps you from needing to constantly watch over and check your statistics—it gives you the information you need. Once implemented, Automatic Campaign Optimization allows you to save time and increase profits by seeing what's working best (and utilizing that information), all in one fell swoop.
Simply put, what this means is that with this tool, the automatic campaign optimization settings enable you to find and configure for the best results in terms of both traffic and/or conversions, depending on your end goal.
Check out our step-by-step getting started guides to help you get an easy start. 
Why Automatic Campaign Optimization Matters for Affiliate Marketers—and How It Can Make Them More Money
Knowing how complicated and even chaotic affiliate marketing can be, AdsBridge offers a lot of resources revolving around affiliate marketers and how to make their work easier, faster, and more efficient.
AdBridge's other tools are already valuable resources for all marketers, including affiliate marketers, and the Automatic Campaign Optimization feature is no exception. This feature actually works seamlessly with AdBridge's other features that focus on and allow for affiliate networks integration.
AdsBridge makes it easy and fast to connect your AdsBridge account with your affiliate networks' accounts. Not only does this make it easier to launch campaigns, when combined with the Automatic Campaign Optimization feature, it makes it incredibly simple to monitor multiple campaigns (including for multiple products and/or offers).
Affiliate marketers who are frequently promoting more than one product—especially when promoting across multiple platforms—know how exhausting it is trying to keep up with multiple campaigns. It seems like you spend more time evaluating statistics and trying to figure them out than you spend doing what you love to do (or at least make money doing) by marketing them.
AdsBridge's Automatic Campaign Optimization feature is going to allow affiliate marketers to spend more time marketing and searching for new products to profit on, saving them time and energy from pouring over statistics they no longer will need to see. The best part is that the more campaigns you have, the more time you save, and the more money you'll ultimately make.
Instead of worrying about each individual campaign's traffic and conversions (sometimes for multiple different audiences), the campaign optimization provides you with that information. As an affiliate, the goal is purely to get people to purchase, and this feature helps you to focus in how to boost conversions without a ton of added time or work on your part.
AdsBridge is already fully optimized for affiliate marketers, with many resources available, such as our guide to affiliate landing pages. We also have options available for both the affiliate and the publisher, and the ability to connect various affiliate networks through your tracking account.
For more about what features AdsBridge designed for affiliate marketers, you can see our post about it here.
Final Thoughts: How to Get AdBridge's Automatic Campaign Optimization
Our automatic campaign optimization is one that all marketers can find useful, no matter how many campaigns they are running. That being said, its value drastically increases the more campaigns you've got going at once, especially as an affiliate for multiple products and/or services.
Automatic Campaign Optimization, once released, will soon be an add-on service that members can choose to purchase with other advanced options we offer. It's a worthwhile investment, as no other competitors have an optimization algorithm that comes close to providing the same levels of increased results and detailed information as the exclusive algorithm we developed. Not only is it exclusive to our network, it's also been thoroughly tested, and will soon be releasing after beta testing has been completed.
In the meantime, we offer other services and plans that are highly valuable to all online marketers, affiliate marketers included. You can find a list of our services and prices that we currently offer here.
To see more about the other benefits and features you get when you sign up for AdsBridge, you can click here. For more about affiliate marketing on AdsBridge and the tools they offer for affiliate marketers, you can read more in this post.
*Note! Automatic Campaign Optimization feature is not available to users with the Basic Susbcription plan!
What do you think of AdsBridge's automatic campaign optimization features, especially when used by affiliate marketers? Will you sign up for to be a beta-tester, or purchase it as an add-on once it becomes available?  How do you think it will affect your affiliate marketing campaigns? Leave a reply with feedback and let us know!