Today Affiliate marketing has become complex, competitive and time-consuming. Amodern online marketer has to manage multiple campaigns with many different marketing tools which takes too much time and costs too much money.
When it comes to running a seccussful business online, an ultimate tracking solution is a must have for serious online marketers. The good tracker is like your priceless map, when you're hunting for money. The key to making money with winning campaigns is to be able to analyze and understand the data you have. 
Great tracking software can save you a lot of money before you find the winning campaign.
You need the tracking software that can tell you the visitor's IP address, operating system, country, time of the conversion, the carrier information if the visitor uses a mobile device, and other valuable data. 
These variables are the clues you use to be able to optimize your campaigns. By collecting all of this information, it allows you to further split test campaigns to constantlyimprove conversions.
So , tracking platform make it easier to manage, scale and optimize your ad campaigns but which is more valuable – you will not lose clicks in the process. (But it may happen if you use your own hosted tracking software).
There are a lot of good tracking options nowadays,  but I strongly recommend you to try the newest and the most technologically advanced tracking platform – AdsBridge.com.
What is AdsBridge?
  • SaaS Mobile and Web tracking software
 • No traffic volume limitations
 • 15 parameters to target & 40 performance KPIs
 • Online editor to build landers in minutes
 • 24/7 live chat and Skype support
 • ABSOLUTELY FREE OF CHARGE
You can see a preview of the AdsBridge dashboard below: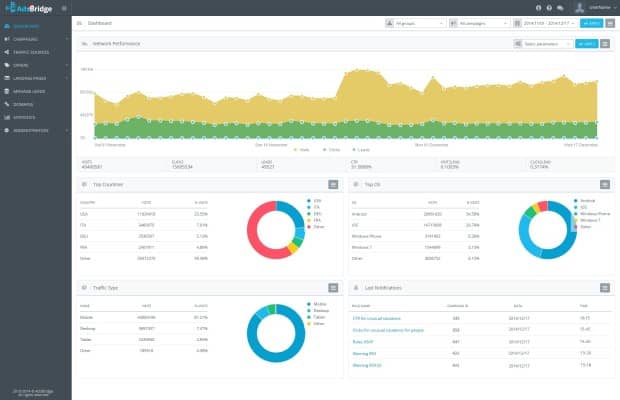 Find out what is AdsBridge and become one of our ACTIVE users to make more money now!
You can also contact AdsBridge Support Team with all your questions whenever they appear.