As affiliate marketing gets more and more competitive, you notice new tools appear on the market. Some of them stay, others go, as well as their developers.
We have been doing media buys for 8 years. Throughout these years of successful media buying we have used various tracking tools starting with Prosper and ending with Thrive tracker. Well, we ended up creating our own tracking software!
Meet AdsBridge, the freshest and most technologically advanced tracking software for online marketers!
What is AdsBridge?
A hosted tracker

A traffic distribution system (TDS)

A landing page builder

A FREE solution for serious performance marketers
What can you do with AdsBridge?
– Track unlimited Mobile and Web campaigns in real time;
– Target and redirect traffic by 15 parameters;
– Create custom subids and pass them to offers automatically;
– Rotate unlimited offers and landing pages with weighted %;
– Block your referrer and use redirects to stay private;
– Analyze stats with multicampaign reports;
– Group stats by specific date ranges and time zones;
– Enjoy day and week-parting targeting and reporting;
– Easily export any stats;
– Capture and manage any lead data;
– Use our pool of landing page templates for free;
– Create landing pages in minutes without HTML or CSS.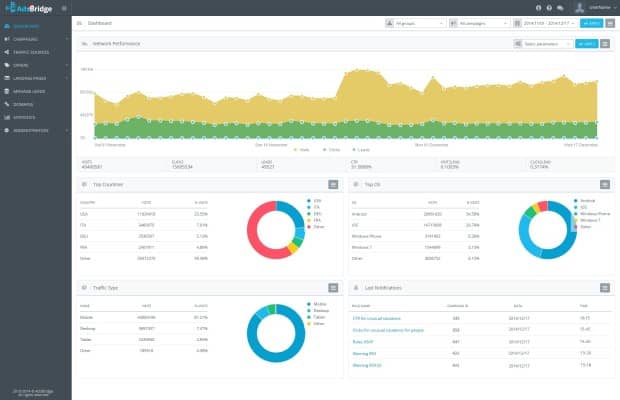 What's special about AdsBridge?
FREE TO USE

NO TRAFFIC VOLUME LIMITATIONS

Supports multiple users with custom roles

Sends SMS/email alerts based on custom rules

Supports unlimited domains
 So why switch to AdsBridge?
Your reports take forever as you scale volume?

Your tracking software is not user friendly and was created 6 years ago?

You pay too much to host your tracker?

Have to pay extra after you reach your click limit?

Redirects aren't fast enough?
 AdsBridge is your solution!
The freshest, fastest and feature rich tracking software for free.
You are welcome to start using AdsBridge now and leave your feedback as this tracker is being actively developed and gets improved based on its users experience.
Sign up now to make more money with AdsBridge!
Feel free to contact us if you have any questions or see an opportunity to cooperate.
We can easily integrate with affiliate networks as well.