The story began far far away in the Affilaxy. Planet AdsBridge was surrounded by traffic sources and connected to Affiliate networks of the Affilaxy. Young, but skillful warrior AdsBridgette was raised by a family of brave Affilaхy warriors who dedicated their lives to protect their planet from cosmic assailants, and keep all the information on the planet secure in one Adcloud.
AdsBridgette was destined to make a great change in the Affiliate world. By the age of eighteen, she turned into a well-known superhero, who served the Affilaxy. In a few years, she achieved an unprecedented level of success on the battlefield, and proved to be highly intelligent, super fast, precise, and technologically skilled individual, who was ready to face new challenges. And they didn't keep her waiting…
One day it was rumoured that the Earth was in danger. They lost lots of traffic by setting up wrong campaigns, didn't do optimization or precise targeting, and their redirects were miserably slow. They almost waisted their planet…
The Affilaxy guardians worried about the impact it could make, so they chose AdsBridgette from millions of candidates to carry out a mission, and sent her to Earth.
When AdsBridgette took her first step on the planet she witnessed a chaos of people and weird old machines. The primary analysis showed a huge development gap. Fortunately, her power was sufficient to prevent a disaster, and she came up with a solution to build a bridge based on new technology and well-designed LP's. It didn't take her long time, the crucial changes were seen all over the planet.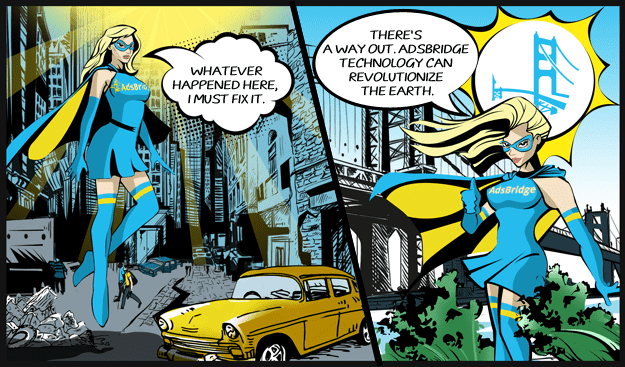 The chaotic traffic was stabilized, people were targeted in the right way, old machines were replaced with an intelligent technology software that was safer and faster. People started their new life with new campaigns with the help of a high-quality support.
Automatic monitoring and optimization were set to watch after traffic.
The revolutionary changes were made in a few days and the bridge is still there, working successfully.
Afterwards, she took a chance and flew to fabulous Las Vegas to celebrate her victory. You've probably seen her on ASW and InterNEXT conferences.