Hi everyone!
More than 3 years ago AdsBridge launched a feature that allows you to secure your online experience by using SSL certificates on your domains, namely:
Generating and connecting free SSL certificates;

Upload your own SSL certificates.
Using SSL certificates on domains is a necessary condition for secure work on the Internet and data transfer. What are the advantages of AdsBridge SSL certificates?
SSL certificates are free

.

Full automation

. You just click the button and the whole process of certificate generation and necessary settings will be done automatically.

No limit

. No limit on the number of certificates.

Time savings

. You do not need to spend a lot of time buying certificates on the side, understanding generation settings, and binding them on the hosting side – AdsBridge will do everything for you!

Unique feature

. AdsBridge is currently the only tracker that offers a free generic and bind certificate for domains.

Security of connection and data

.
The simplicity and usefulness of this feature are really amazing!
So how to generate and bind a free certificate from AdsBridge to your domain?
Select the domain and click the "Enable SSL" button.

One step and all are done! SSL certificate will be automatically generated and bound to your domain. When all this process is done, you will see a blue checkmark in the "SSL status" column, it may appear within 24 hours.  
Now let's talk more about installing your own SSL certificates.
Certificates purchased from specialized sites (e.g. comodo, gogetssl, etc.) you can easily add to AdsBridge, and they will be automatically bound to your domain. 
Note! The function of SSL certificate adding is available on request through the support manager.
Choose the domain and click the button "Enable/Disable SSL".

Choose "Upload SSL Certificate" in a pop-up.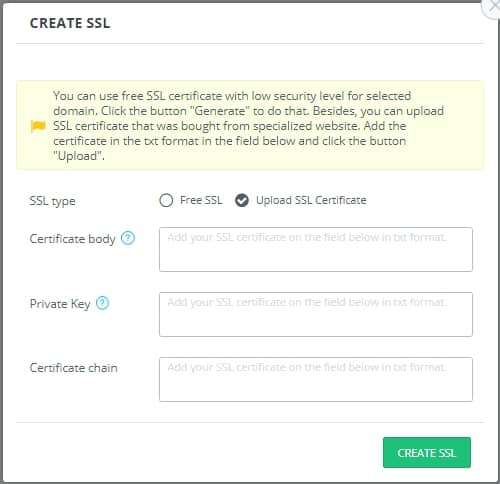 Add a certificate in a txt format in the field "Certificate body". If you have generated the certificate as a file, then open it with any text editor (for example, Notepad), copy the content, and add it to this field.
In the field "Private key", add a key in the txt format for this certificate. You generally receive it via e-mail.
The "Certificate chain" field is optional. You need to fill it in for your domain protection on all levels if you were provided with this information when buying a certificate.
After you have filled in all necessary fields, click the button "Create SSL".
That's all! Your SSL certificate will be automatically connected to the selected domain. Status update in your AdsBridge account will take some time.
AdsBridge will make your online life safer and protect your data with advanced technologies. Work effectively! Work with AdsBridge!