TikTok is a mobile video platform that gives content creators the ability to reach a large community. And with TikTok Ads Manager, brands can tap into TikTok's global audience. In this article on advertising in TikTok, we share everything you need to know to set up tracking and track the effectiveness of your campaign with AdsBridge.
Features of monetization in Tik Tok
– The number of subscribers doesn't matter, but views, likes, and comments are very valuable. Having dead souls in followers and few views is not in your favor.
– The age of the audience. The site has begun to gain popularity among those over 20, but the main audience – is teenagers. Need content that "goes" to young people.
– Videos made on the platform Tik Tok are forwarded to Youtube and Instagram, where you can leave clickable links – it will significantly increase your views.
– Stay on top of trends. Constantly generating new content ideas will keep you popular.

Obviously, there are solid prospects for using this site. Anyone can get into recommendations by getting the overall concept of the channel right. Attractive visuals, sparkling humor, and originality – your everything. Use ready-made ideas, monitor the popular hashtags, create duets, respond to other people's videos, and you'll be on the right track to earning money.

Types of earnings in Tik Tok
Everyone can make money on this platform, with the exception of underage teenagers, who need parental consent.
The surest and most popular method is native advertising. The blogger carefully and unobtrusively mentions the advertised brand. For example, the product can be featured in the background during the filming of the video.

Direct advertising works great, too. Shoot a product unboxing or list product features as is, just get creative and use your full potential. A large audience on your profile will definitely attract advertisers. The brand can also sponsor the creation of viral videos. 

If you have more than 1,000 subscribers, a live stream function opens up. Everyone can give you coins or pay the streamer stickers during the broadcasts. Coins can then be exchanged for real money and withdrawn via PayPal.             

Integrate your own business, attracting new customers. Advertising your product or service in a colorful roller will go with a bang among the youth.

Trade will also play well. Goods can be both physical and digital in the form of courses. If you don't have your own products, you can do dropshipping.
Let's move on to set up in AdsBridge
Step 1: Add TikTok as a source of traffic. For your convenience, we have added TikTok to the template, which will speed up the setup process a lot.

Traffic Sources – Create Traffic Source – Select from Template – Save
Step 2: After Saving the settings, there will be an additional field for linking accounts. You need to fill them with data from TikTok. After linking the account, the postback will be pulled up to send conversions to the TikTok side.
Read more about TikTok integration in the documentation
The data for filling the Pixel ID and Access-Token fields are taken from the TikTok AdsManager.
Event Name – specifies the event for which a campaign is configured: purchase, add to cart, confirm registration
Properties – responsible for the correctness of statistics transfer.
Step 3. Add affiliate network (if necessary);
Step 4. Add an Offer, i.e. an affiliate link;
Step 5. Create a Campaign and place the campaign link on the traffic source.
There are 2 options for setting up the campaign here:
You can create a pre-link in AdsBridge's visual or HTML editor and add it to the campaign. In this case, you will have no redirect when clicking on the campaign link.

You can create a campaign in AdsBridge with the "No redirect" type. To do this, you must have a landing page on your own server or a page to which you have access to the code. If this is available, you can proceed.
In this case, use the following instructions to set up a campaign of this type. Instructions
Where are the data in TikTok for attaching an account?
First, you need to go to TikTok AdsManager – Assets – Events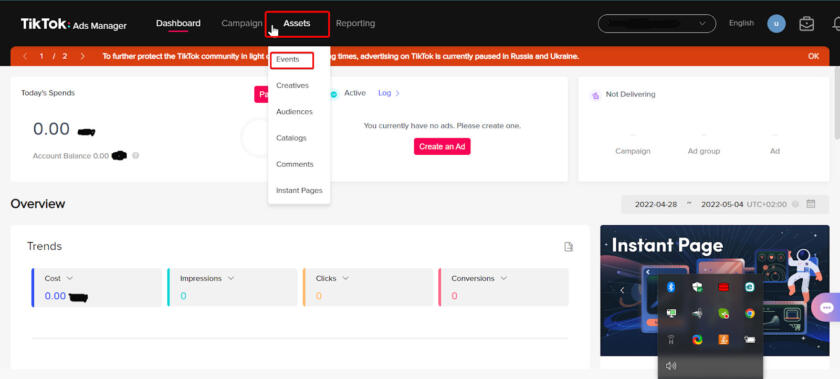 Let's start with the first item for attaching an account – Pixel ID generation.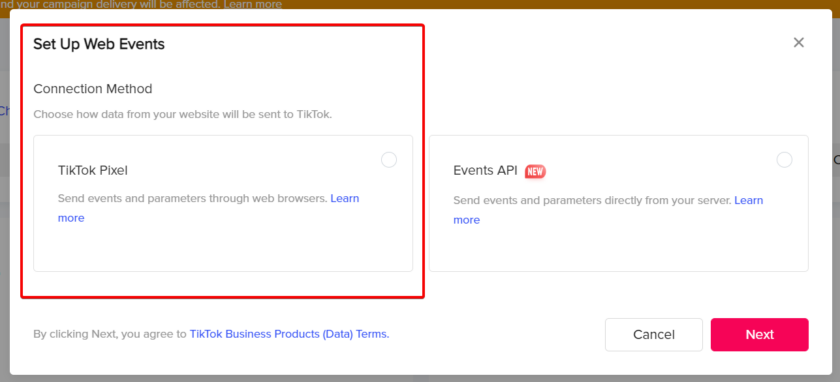 After you've created a TikTok Pixel:
A Pixel ID will be generated at the top of the page and placed on AdsBridge. The next step is Settings – Generate Access Token.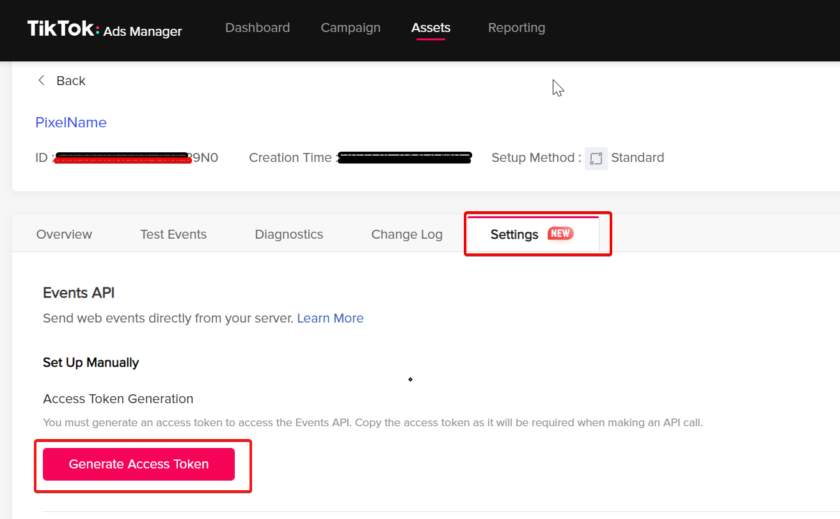 After clicking on Generate Access Token will be generated Access Token, which you should copy and paste into the Access-Token field on the AdsBridge side when attaching a TikTok account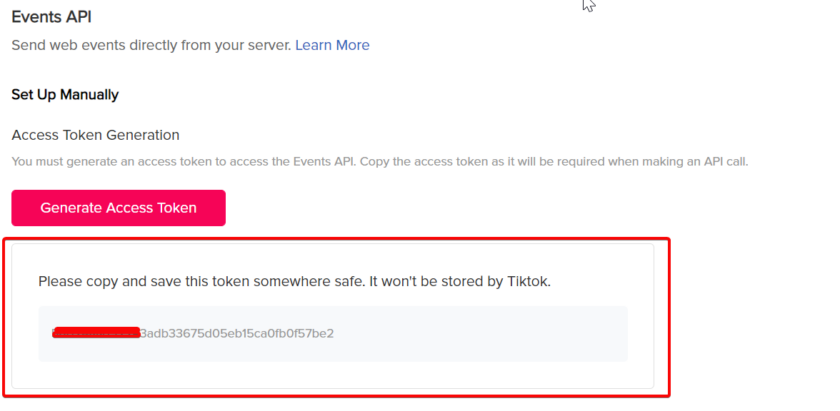 After making all the above settings, you will not only be able to track visits, clicks, and conversions but most importantly – transmit conversions to the TikTok side.
Remember, TikTok is a young and in-demand platform. Its popularity continues to grow every day, so don't hesitate – to get your audience and earn money now!