For a large number of people, AdsBridge has become a real and reliable bridge that helps to make work more convenient, faster and more profitable!
AdsBridge confidently took its niche in the affiliate marketing world. Ten years of hard work resulted in our cooperation with affiliates, media buyers and advertising agencies from 160 countries?! 
At the origins of AdsBridge
The idea of the project was born in 2013 thanks to Alexander Omeljanovich, who was working with affiliate traffic and found that there was a lack of a solution with effective tools for analytics. This is how the idea of creating AdsBridge was born. 
We decided to dig in the archives and take you through the first steps of creating the tracker!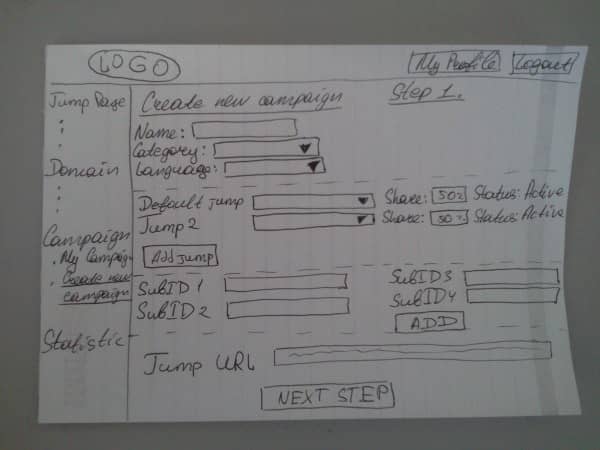 Once it all started with this startup sketch, which eventually grew into a large platform for the analysis of the effectiveness of advertising campaigns 

AdsBridge's first logo. Remember it like this?) 
In creating subsequent logos, the decision was made to stick with the usual color scheme, leaving the bridge and the "Ads" part of the brand name in blue. 
Of course, changes during this time also affected our website, we optimized the interface, added basic features to the home page, added more animation and added two languages to choose from.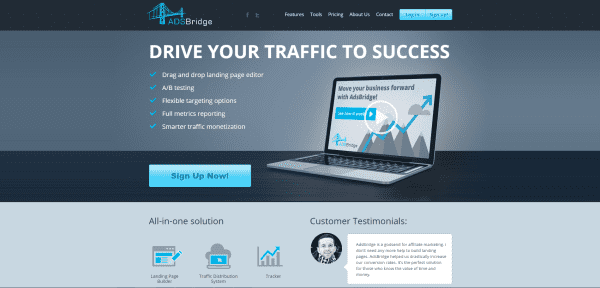 First launch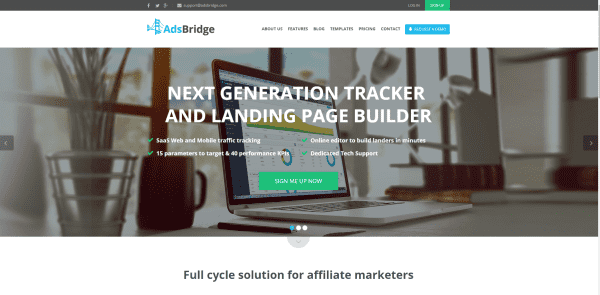 Website after 4 years
The transformation of the website started with the home page and continued from the inside. We are constantly trying to improve the platform to meet your requirements and optimize your experience as much as possible. Since its inception, the AdsBridge functionality has added countless new features, which, today, make it possible to increase the profitability of your campaigns many times over. 
Originally AdsBridge Tracker provided the basic functionality for working with traffic, which 10 years later was updated to the version you are using now. We've added unique features such as: 
– Traffic expansion by 18 distribution rules;
– Split testing;
– Auto-optimization of campaigns;
– Built-in editor for web links (visual and HTML);
– Capability to hide link conversions;
– Multi-user mode;
– Manual bot filter, etc.
 These advantages allowed us to become one of the market leaders! Our team would like to thank everyone who has worked with us and trusted us for so many years, as well as those who have just recently started their journey with AdsBridge. We believe in further fruitful cooperation and achieving great heights together! 
Thank you for being with us!
AdsBridge Team ?